Season 08
David Rosenberg
On this week's Consuelo Mack WealthTrack: one of the few economists to foresee the global economic slowdown. Gluskin Sheff's David Rosenberg saw signs of trouble as chief economist at Merrill Lynch. Now back in his native Canada at Gluskin Sheff he continues to warn about a prolonged slump with high unemployment in the developed world. He tells Consuelo what it means for investors and where to find growth despite a stagnant U.S. and Europe.

WEALTHTRACK Episode #0820; Originally Broadcast on November 11, 2011
Listen to the audio only version here:
David Rosenberg
Explore This Episode
We have compiled additional information and content related to this episode. Select a tab from the box below for more.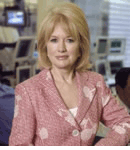 "Now It's Italy"- that's the title of a series of telling handouts from independent research firm, Bianco Research, as the ten-year bonds of the world's fourth largest borrower surged to nearly 7.25% on Wednesday, an astonishing 5-1/2 percentage points above Germany's equivalent bond. Of course on any number of yesterdays, it could have been "now it's Greece." Tomorrow it could be "now it's Spain." It's nigh impossible to keep track of the Euro Zone developments roiling the bond and stock markets. We got a respite today with a measly 0.9% gain in the S&P 500, following yesterday's nearly 4% decline. Call it one step forward and three steps back
As this week's WealthTrack guest, Dave Rosenberg reminds us, "how many monetary unions have ever worked?" He takes us back to the East African Monetary Union and the Scandinavian Monetary Union of over a century ago- neither one remembered "because they don't exist anymore." As he points out "the only monetary union that works is the United States." And we fought a war to preserve it.
Are we in a depression? That is another question being raised by this week's Financial Thought Leader guest. In a recent special report titled "Not Your Father's Cycle, But Maybe Your Grandfather's (great grandfather?)", economist Rosenberg notes that "an economic depression occurs only once it becomes painfully obvious that the markets and the economy are failing to respond to repeated bouts of policy stimulus."
How are we doing after three years of repeated and, in some cases, record amounts of fiscal and monetary stimulus? Not great. As Rosenberg points out, "no major economic indicator from employment to GDP to industrial production to real incomes has managed to get back to their prior cycle highs in late 2007." Those are the unfortunate facts as are some other indicators Rosenberg is tracking, including home sales which are much lower than they were in late 2009; the S&P 500, which is at the same level it was more than a decade ago; and ten year's worth of zero employment growth. The latest read on home prices shows they fell in nearly three-quarters of metropolitan areas in the third quarter.
The vast majority of economists disagree with Rosenberg's dire assessment, but increasing numbers of them, including those at the Federal Reserve are lowering their forecasts and predicting several more years of slow economic growth, low interest rates and uncomfortably high unemployment. In other words, the world is just starting to catch up to Rosenberg's long time predictions.
David Rosenberg is the chief economist and strategist of Toronto-based investment firm Gluskin Sheff. For years, Rosenberg was the influential chief North American economist at Merrill Lynch, where Institutional Investor magazine placed him on their coveted "All American All Star Team" from 2005-2008. His daily "Breakfast with Dave" report is a must read among his many fans. Rosenberg is known for being years ahead of the pack in spotting the housing and credit bubbles and predicting the serious and prolonged damage they would inflict on the U.S. and world economy and markets. But a depression? One of the topics we will talk about is why he is using the "D" word.
If you can't watch this week's episode on television, you can always watch it by going to our website. It will be available starting Sunday, or Monday morning at the latest. If you want to see our WealthTrack episodes ahead of the rest of the pack, you can do so by becoming a subscriber to advance showings of WealthTrack. Click here to sign up.
For those of you following my occasional Twitter, under my name ConsueloMack, I will be tweeting tomorrow. For those of you active on Facebook, you can contact us on our Consuelo Mack WealthTrack page.
As always, make the week ahead a profitable and a productive one.
Best regards,
Consuelo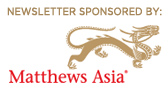 No Action Point details available for this episode.
No Bookshelf titles available for this episode.
No One Investment details available for this episode.
No Stock mention details available for this episode.
David Rosenberg: Financial Thought Leader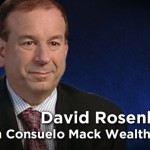 This week, we are sitting down for an in-depth interview with one of the handful of prognosticators who has gotten it right going into and through the rolling global financial crisis we are experiencing to this day. He is Financial Thought Leader David Rosenberg, chief economist and strategist at Toronto-based wealth management firm Gluskin Sheff. Dave returned to his native Canada in 2009 after spending many years as Chief North American Economist at Merrill Lynch, where Institutional Investor magazine placed him on their coveted "All American All Star Team" from 2005-2008. Rosenberg took on the bullish Wall Street herd as early as 2004, when he started warning about the developing housing and credit bubble which, as he predicted throughout, would wreak havoc on the financial system and many world economies. Well he hit the nail on the head again last year, forecasting the global economy would slow and that treasury bond yields would fall- another homerun. In his influential and widely read daily "Breakfast With Dave" reports, he ranges across the globe covering everything from Europe and how "it is rather incredible that this rolling crisis is now going on 2-1/2 years and policy makers have yet to find a viable solution"; to emerging markets and "why the once mighty BRIC currencies are depreciating of late at their fastest pace since the 1998 Asian crisis"; to the financial markets and "how the "pattern of the past three years is unmistakable as each spring, the equity market corrected as stimulus measures wore off, to only then prompt more incursions by the fall."
WEALTHTRACK Episode #903; This program was originally broadcast on July 13, 2012.
Listen to the audio only version here: Guest Name
Explore This Episode
We have compiled additional information and content related to this episode. Select a tab from the box below for more.
No WEB EXTRA available for this episode.