[box] This week we are revisiting a recent program on a popular topic – guaranteed income for life! Retirement experts Kim Lankford of Kiplinger's and New York Life's Christopher Blunt discuss strategies to avoid outliving your nest egg. You can watch that episode again here. [/box]
There is a growing retirement crisis in this country. An estimated 10,000 baby boomers a day are retiring and many of them are woefully unprepared to support themselves in retirement. Social Security, a primary source of retirement income for a majority of senior citizens is on shaky financial footing. The program is now projected to spend more than it earns by the end of the decade and unless significant changes are made will be depleted by 2034.

There is widespread acknowledgement among government and business leaders that the crisis calls for a comprehensive national policy response, on par with the Pension Protection Act of a decade ago. A bipartisan commission of private and public sector leaders has just come out with its recommendations. In a few weeks we intend to devote a WealthTrack program to their proposals and others, but in the meantime they deserve your attention.
[one-half]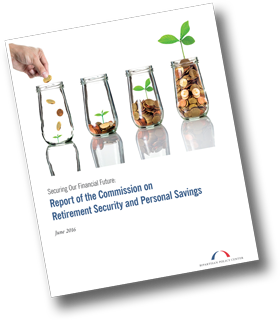 [/one-half]
[one-half last]
Download the report. [pdf]
[/one-half]