[box]During Public Television's pledge season, we are revisiting some popular recent programs. In this
WEALTHTRACK exclusive, T. Rowe Price's Brian Rogers shares the investment lessons learned over a three decade career running an award winning mutual fund and a decade managing the firm and its investment strategies. Near the top of the list are why humility is so important to successful investing and why over confidence is an investor's greatest challenge. Watch the episode again here. [/box]
NEW THIS WEEK:
On Friday June 9th the much debated Fiduciary Rule will take partial effect. As The Wall Street Journal reported, despite President Trump's calls for a re-evaluation, his Labor Secretary, Alexander Acosta gave the "heart of the rule- a best interest standard of care required of stewards of retirement savings" the green light although the rule remains open to review. Read the article here (requires WSJ Subscription).


Supporters of the fiduciary rule say that ensuring that financial advisers act as fiduciaries, putting the interests of their clients first and ahead of their own, is essential. They frequently cite a report put out in 2015 by the Council of Economic Advisers under the Obama Administration which estimated that conflicted investment advice costs Americans an estimated $17 billion a year in retirement savings. Since the fiduciary rule is now partially in effect, at least for the time being, we thought it was worth looking at the report again.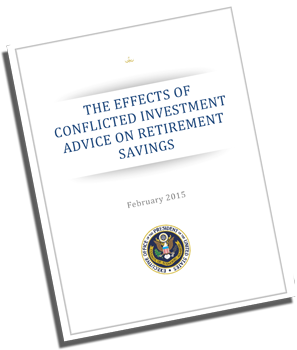 Download the report THE EFFECTS OF CONFLICTED INVESTMENT ADVICE ON RETIREMENT SAVINGS [.pdf]