Part 2 of 2

Our rare interview with legendary investor Steven Romick, Co-Portfolio Manager of the FPA Crescent Fund, which he founded 30 years ago. Morningstar gives the gold-rated fund high marks for its focus on capital preservation and strong stewardship.
Since 1993, Crescent has generated equity-like returns with less risk than the overall market. Its nearly 10% annualized returns match the S&P 500 but with significantly less decline during downturns and faster recovery.
Earlier this year, Romick delivered the keynote at Morningstar's investment conference, reflecting on his 30 years of successful investing across multiple cycles.
We asked Romick to share insights and lessons learned navigating major crises like the tech bubble, financial crisis, COVID crash, and 2022's meltdown. Interestingly, he believes Crescent has survived by "first considering what can go wrong."
Hear Romick's wisdom on defensive investing, managing risk, contrarian thinking, and preparing for an uncertain future—a rare chance to learn from a legendary investor. Also, watch Part 1 here.
WEALTHTRACK Episode #2012 broadcast on September 15, 2023
Listen to the audio-only version here:
---
LEARN MORE…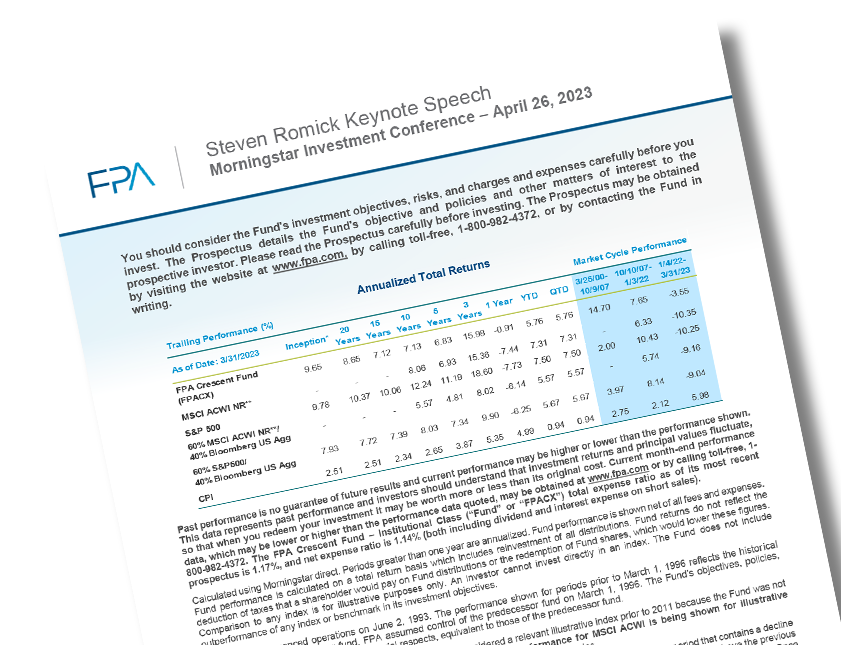 Steven Romick Keynote Speech
Morningstar Investment Conference – April 26, 2023
As FPA Crescent Fund celebrates its 30th anniversary, Morningstar asked its founding portfolio manager, Steven Romick, to deliver a keynote speech at its annual conference.
His topic: "The Evolution of a Value Investor." [PDF]
---
Explore This Episode
We have compiled additional information and content related to this episode.
STEVEN ROMICK
Co-Portfolio Manager, FPA Crescent Fund
---
ACTION POINT
DETERMINE WHAT STRATEGY WORKS BEST FOR YOU AND STICK WITH IT
A replicable process you can execute in all market environments
In sync with your personality so you don't abandon it in times of market stress
It can help you stay focused & set investment boundaries.
Can protect you from "FOMO"- fear of missing out during market crazes.
---
BOOKSHELF
Security Analysis, Seventh Edition: Principles and Technique by Benjamin Graham and David L. Dodd
---
ONE INVESTMENT
TRACKING BIOTECH
Significant changes:
Human genome mapped
Drug developments
AI contributions
---
ARCHIVES
Steven Romick from the WEALTHTRACK Archives:
---
WEB EXTRA
CONTINUOUS LEARNING
What does FPA Crescent Fund's Steven Romick love about his job 30 years in?