Part 1 of 2
Discover insights from renowned investor Steven Romick, Co-Portfolio Manager of the FPA Crescent Fund, which celebrates its 30th anniversary this year. Unlike most funds, FPA Crescent has not only survived but thrived for three decades, delivering almost 10% annualized returns with lower volatility than the S&P 500.
Its success lies in maintaining equity-like returns with reduced market risk and avoiding permanent capital losses. Morningstar's Gold analyst rating and the 2013 Allocation Fund Manager of the Year title validate its performance.
In a rare interview, FPA Crescent Fund's founding portfolio manager, Steven Romick, puts the fund's current positioning into perspective.
WEALTHTRACK Episode #2009 broadcast on August 25, 2023
Listen to the audio-only version here:
---
LEARN MORE…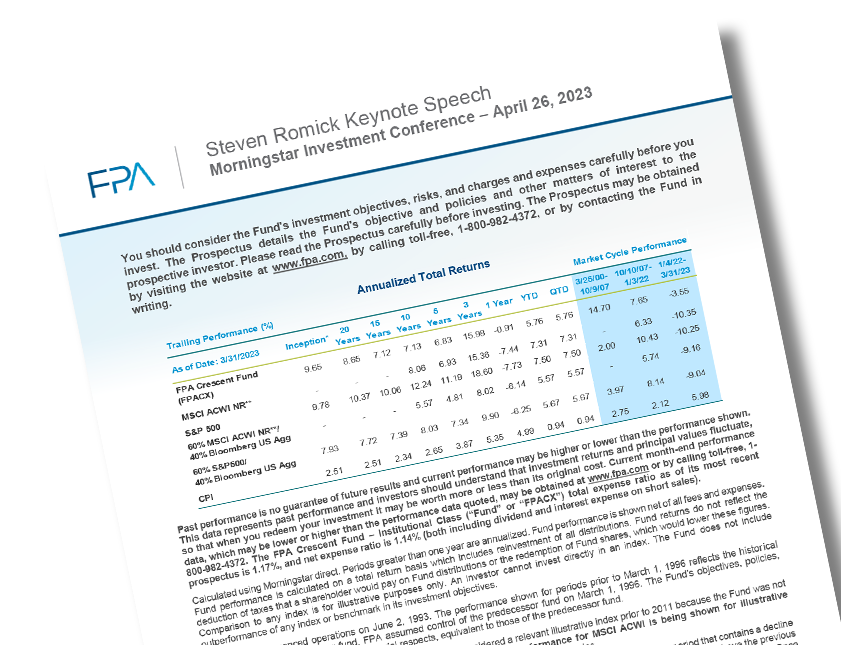 Steven Romick Keynote Speech
Morningstar Investment Conference – April 26, 2023
As FPA Crescent Fund celebrates its 30th anniversary, Morningstar asked its founding portfolio manager, Steven Romick, to deliver a keynote speech at its annual conference.
His topic: "The Evolution of a Value Investor." [PDF]
---
Explore This Episode
We have compiled additional information and content related to this episode.
STEVEN ROMICK
Co-Portfolio Manager, FPA Crescent Fund
---
ACTION POINT
DON'T RUN WITH THE CROWD
Difficult to do
Best investments frequently aren't working well short-term
Are unpopular
FPA Crescent lost 90% of its assets from 1998-1999 because it didn't own dot com stocks
Outperformed the market for the next three years
Romick & FPA Crescent team bought during Covid sell-off, benefited during the rebound
---
BOOKSHELF
Security Analysis, Seventh Edition: Principles and Technique by Benjamin Graham and David L. Dodd
---
STOCK, BOND, FUND MENTIONS
Alphabet Inc (GOOGL)
Netflix Inc (NFLX)
Meta Platforms Inc (META)
CarMax Inc (KMX)
---
ARCHIVES
Steven Romick from the WEALTHTRACK Archives:
---