Katy Votava
AVOIDING COSTLY MEDICARE MISTAKES
It's estimated that 95% of seniors are paying too much for Medicare coverage.  Today, men and women who retire at 65 can anticipate living another 25, 30 or even 40 years – all of those years receiving Medicare benefits and contributing to them.  On this week's WEALTHTRACK, healthcare expert Katy Votava, president of Goodcare.com and author of Making The Most Of Medicare: A Guide For Baby Boomers explains what you need to know to maximize those benefits and avoid overpaying.


WEALTHTRACK Episode #1614; Originally Broadcast on October 04, 2019
[learn_more caption="CLICK HERE TO LEARN MORE ABOUT MEDICARE"]
Medicare.gov
– The official U.S. Government site for Medicare
1-800-MEDICARE
Shiptacenter.org – The State Health Insurance Assistance Program (SHIP) site that directs consumers to free Medicare counseling and assistance
[/learn_more] Especially for WEALTHTRACK viewers, Katy Votava is offering a 25% discount on purchases of her ebook Making the Most of Medicare: A Guide for Baby Boomers. See the BOOKSHELF section below for details
Explore This Episode
We have compiled additional information and content related to this episode.
[tabcontainer] [tabtext]Guest Info[/tabtext] [tabtext]Newsletter[/tabtext] [tabtext]Action Point[/tabtext] [tabtext]Bookshelf[/tabtext] [tabtext]One Investment[/tabtext] [tabtext]Stock Mentions[/tabtext] [tabtext]Transcript[/tabtext] [tabtext]Video Archive[/tabtext] [/tabcontainer]
KATY VOTAVA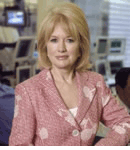 The proverbial wall of worry that the market is supposed to climb is getting higher. This week in the U.S. we saw very weak manufacturing numbers and some softness showing up in the services sector. Trade tensions continue unresolved and the markets are being roiled by every real or imagined shift. The markets are off to a weak start for the fourth quarter. China's economy is slowing. Consumer spending in Europe is up but Brexit and trade problems are taking their toll. The geopolitical atmosphere is charged with North Korean missile firings, more Hong Kong demonstrations and crackdowns and of course Congress' impeachment inquiry moving full steam ahead.
Despite these developments, Wall Street's number one-ranked economist for 35+ years remains optimistic. Ed Hyman's Evercore ISI's last headline today was "U.S. Economy Still OK." Hyman cited a still rising consumer confidence measure which "suggests that employment is still OK," despite the General Motors' strike which should hit September's employment report due out Friday morning. His firm's proprietary housing surveys show home prices holding steady and money supply accelerating +6% year over year which he reads as a positive sign for the U.S. economy.
This week we are focusing on one of life's certainties. As soon as you turn 65 you are eligible for Medicare. It is a benefit that can't start soon enough for many older adults. Health care costs are skyrocketing and they hit seniors particularly hard because many are on a fixed income and they utilize health care more.
But Medicare is not a slam dunk, anything but.  It is a very complex, confusing multipart program that requires work to understand. And its benefits can vary widely depending upon how and when you apply, where you live, and what plans you enroll in.  And as your health changes, it can either help you or hurt you. You need to know how to make it work for you.
A shocking statistic from Medicare guru Katy Votava is that "nearly 95% of people pay too much for their Medicare coverage… because they do not completely understand the full costs they will pay in addition to the premiums."  With Medicare, the devil is in the details which is why we have asked benefits guru Votava to return to WEALTHTRACK and bring us up to speed.
Katy Votava is founder and president of goodcare.com, a healthcare consulting firm for individuals, small businesses and financial planners. She is a registered nurse with a Ph.D in health economics and nursing. She's also a columnist for Investment News and the author of Making the Most of Medicare: A Guide for Baby Boomers, now in its 6th edition.
Especially for WEALTHTRACK viewers, Votava is offering a 20% discount on this valuable guide.  You can click here to purchase it. Just be sure to enter the discount code FA20.
We covered a lot of information about Medicare this week so be prepared to take notes. I started our discussion by asking about a big change occurring next year. Higher-income seniors are in for some sticker shock in 2020.
If you are unable to join us for the show on television, you can watch it on our website over the weekend.  If you would prefer to take WEALTHTRACK with you on your commute or travels, you can find the WEALTHTRACK podcast on TuneIn, Stitcher and SoundCloud, as well as iTunes and Spotify
If you haven't had a chance to do so, we would very much appreciate if you could participate in the anonymous survey   that you'll find on the website, too.
Thank you for watching.  Have a lovely weekend and make the week ahead a profitable and a productive one.
Best regards,
READ KATY VOTAVA'S BOOK – MAKING THE MOST OF MEDICARE: A GUIDE FOR BABY BOOMERS
Making the Most of Medicare: A Guide for Baby Boomers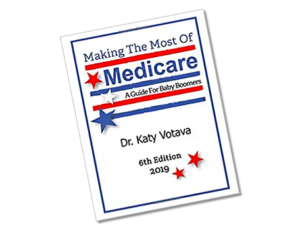 Especially for
WEALTHTRACK
viewers, Katy Votava is offering a 25% discount on purchases of her ebook
Making the Most of Medicare: A Guide for Baby Boomers
.
Purchase here
enter the discount code
FA20
TAX-FREE WITHDRAWALS
Consider Roth accounts for 401(k) or IRA
Tax-free withdrawals
Not included in adjusted gross income calculations
Source of cash flow in retirement
No stock mentions in this episode.
This transcript will be available soon. More information regarding
WEALTHTRACK
transcripts can be found
here
Katy Votava from the
WEALTHTRACK
Archives:
If the archive episodes do not appear here, please turn off, or whitelist this site, in your ad blocker extension.