As soon as a WEALTHTRACK transcript is prepared (this can take several weeks after a program first airs) we make it available to read on our website for free.  You can view a few free transcripts here.   WEALTHTRACK PREMIUM subscribers can download older transcripts on our site as well.  Additionally, all of our transcripts are available in downloadable PDF format for $4.99. These transcript PDF files are readable and printable on computers, laptops, smartphones, tablets, etc.
Finding a Specific Transcript
Every program of WEALTHTRACK has a corresponding page on our website.  That page contains all pertinent information about that program including the guests, a brief synopsis, and more.  On that program page you will find a tabbed box with a Transcripts tab, like this: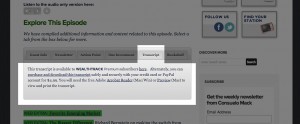 That Transcript tab will contain a link to purchase the transcript in pdf format.  If the program's transcript is free it will have a link as well. If the transcript is no longer available for free it will have a link for PREMIUM Subscribers to read it.
If you know the date that the program first aired look for it here.  If you know the guest or the topic of the episode try searching in the "Discover More" box in the right column of this page.