Part 2 of 2
Have you noticed how rampant speculation is? Random investors seem to be making money hand over fist in numerous assets: disruptive companies like Tesla whose stock has soared 600% in the last 12 months, old economy stocks like video retailer GameStop up nearly 6,000% propelled by traders on commission-free trading platforms like Robinhood.
These are not isolated events. The zeitgeist is becoming very bullish. Do you feel like you are missing out? Has the world moved on?

No, it has not according to this week's guest. In part 2 of our interview with financial thought leader, Richard Bernstein he makes a compelling case for long-term fundamental investing.
Bernstein is Chief Executive and Chief Investment Officer of Richard Bernstein Advisors, Rich has also been a regular since WEALTHTRACK's launch in 2005. We've weathered our share of booms and busts over the years. He will discuss some time-tested strategies to invest successfully through both conditions.
WEALTHTRACK Episode #1741; Originally Broadcast on April 09, 2021
Listen to the audio only version here:


---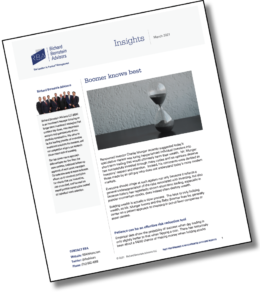 In a recent research piece, Richard Bernstein explains the important lessons to be learned from older, successful, long-term investors including the legendary Charlie Munger. Download the report. [.pdf]
Please note: RBA does not warrant that the Insight is suitable for individual investors and has not been approved for such use.
---
Explore This Episode
We have compiled additional information and content related to this episode.
[tabcontainer] [tabtext]Guest Info[/tabtext] [tabtext]Action Point[/tabtext] [tabtext]Bookshelf[/tabtext] [tabtext]One Investment[/tabtext] [tabtext]Stock Mentions[/tabtext] [tabtext]Video Archive[/tabtext] [tabtext]Web Extra[/tabtext] [/tabcontainer]
[tabcontent]
[tab]
RICHARD BERNSTEIN
CEO & Chief Investment Officer,
[/tab]
[tab]

EXTEND YOUR INVESTMENT TIME HORIZON
PROBABILITY OF A LOSS FOR THE S&P 500
(Rolling Price Returns, Jan 1930 – Jan 2021)
1 day investment = 46% chance of loss
1 year investment = 31% chance of loss
5 year investment = 19% chance of loss
10 year investment = 10% chance of loss
Source: Richard Bernstein Advisors "Insights" March 2021
[/tab]
[tab]

---
Navigate the Noise: Investing in the New Age of Media and Hype
[/tab]
[tab]

EMERGING MARKET VALUE
Emerging Markets stocks and bonds undervalued
Default rate in Emerging Market debt lower than in U.S. high-yield bonds
Stable or lower dollar favorable to EM high-yield bonds
Most portfolios underweight EM securities
[/tab]
[tab]
No stock mentions in this episode.[/tab]
[tab]Richard Bernstein from the WEALTHTRACK Archives:
If the archive episodes do not appear here, please turn off, or whitelist this site, in your ad blocker extension, or allow javascript.
[/tab]
[tab]
POST PANDEMIC LIFE & INVESTMENT INSPIRATION
Rich Bernstein shares what he is looking forward to the most post pandemic and a mentor's inspiring advice.

[/tab]
[/tabcontent] [/tabs]
[box type="shadow"] In Part 1: Leading asset allocation strategist Richard Bernstein explains why the shift in market leadership from stable growth stocks to cyclical value ones is normal and durable, and how to participate. Watch it now.[/box]