One of the striking financial characteristics of this pandemic stricken world has been the extreme divergence between the sickening economic reality on the ground and the out of this world exuberance in the stock market, which started long before now when businesses are slowly and sporadically being allowed to reopen.

This week's guest's interpretation of the data is the polar opposite. He has widely followed economist, David Rosenberg, President, Chief Economist and Strategist at Rosenberg Research & Associates,
Last week, in Part I of our interview, he told us the economy was already going into a recession when the pandemic hit, that it has dramatically deepened, and that unless there is a vaccine soon, which he doubts will happen, that the damage will be lasting.
This week, in Part 2 of our interview with Rosenberg, he focuses on the markets. He says it is impossible to reconcile one of the highest unemployment rates since the Great Depression with the recent biggest 50-day post bear market rally in the S&P 500's history and that something has to give. Despite the market's impressive performance since the March lows, he remains bearish, calling the experience a classic bear market rally. In this week's interview, we discuss what has led him to this conclusion.
Rosenberg will also explain why he believes the pandemic has brought about a fundamental shift to what he calls a "Homebody Economy", and what that means for investors. He agreed to share his list of "How to invest in the Post-Crisis 'Homebody' Economy" with us below.
WEALTHTRACK Episode #1651; Originally Broadcast on June 19, 2020
Listen to the audio only version here:


[learn_more caption="CLICK HERE TO READ RESEARCH REPORTS…"]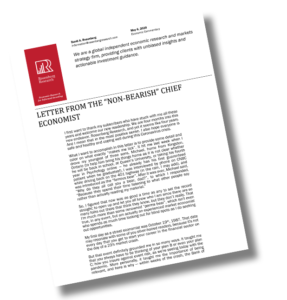 Download the
Letter From the "Non-Bearish" Chief Economist
[.pdf]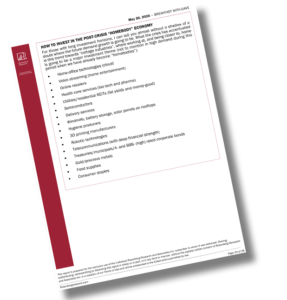 Download
How to Invest in the Post-Crisis "Homebody" Economy
[.pdf] [/learn_more]
Explore This Episode
We have compiled additional information and content related to this episode.
DAVID ROSENBERG
President, Chief Economist & Strategist,
CONSIDER SOME "HOMEBODY" INVESTMENTS
Rosenberg thesis: Transitioning permanently to more frugal "homebody" economy
"HOMEBODY" BENEFICIARIES include:
Home OfficeTechnologies (cloud)
Telecommunications
Utilities
Food Suppliers
Diversifiers include:
– Gold
– Treasuries
No Bookshelf titles this week.

"HOMEBODY" THEME
Buy companies with utility characteristics
Delivery services a place to invest
No stock mentions in this episode.
If the archive episodes do not appear here, please turn off, or whitelist this site, in your ad blocker extension, or allow javascript.
LIFE CHANGING PANDEMIC?
Rosenberg calls the COVID-19 experience a game changer for the economy and markets. It's also had an impact on his life.


Tagged with: episode_1651