Target-date funds have $3 trillion dollars in assets. Millions of Americans are enrolled in them, mostly through company 401(k) plans. They have a track record, multiple products, plenty of competition and fees are declining as a result.

In an article titled "In Praise of Target-Date Funds," one of our favorite WEALTHTRACK guests, Morningstar's Director of Personal Finance, Christine Benz described them as "…nothing short of the biggest positive development for investors since the index fund."

That got my attention! So this week we are interviewing one of the best target-date managers in the business. He is Wyatt Lee, who is Head and Co-Manager of T. Rowe Price's $390 billion Target Date Strategies, the largest group of actively managed target-date products in the U.S.

The firm's Retirement Series earned a Gold analyst rating from Morningstar, one of only two in the actively managed category, for its stellar performance and high ratings for its process, people, and the parent company.

Lee begins with the basics and defines what a target-date fund does and how the product has evolved since it was first introduced in 1994. It turns out target-date funds can be an effective retirement vehicle for investors at all stages of life and that there are many options available. I learned a great deal from Lee. I hope you will too.
WEALTHTRACK Episode #1834 broadcast on Febuary 18, 2022
Listen to the audio-only version here:
---
Explore This Episode
We have compiled additional information and content related to this episode.
WYATT LEE
---
ACTION POINT
CONSIDER A TARGET-DATE FUND FOR A CORE RETIREMENT PORTFOLIO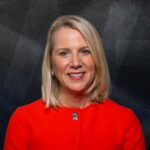 "Target-date funds take asset allocation and investment selection wholly out of investors' hands — not just at a single point in time but at least until retirement."

"They provide an element of inexpensive, quite reasonable investment advice for people who might not otherwise be able to afford it and might otherwise be making kooky choices"

"And most important of all, they have delivered positive outcomes for investors who own them."

— Christine Benz, "In Praise of Target-Date Funds" Morningstar, April 23, 2021
---
TARGET-DATE FUNDS ADVANTAGES
Belong in tax-advantaged accounts such as 401(k)s or IRAs
Should be managed by top quality, financially strong investment firms with excellent long-term track records
Expenses matter but are not the only consideration
Can be just as valuable post-retirement as pre-retirement
---
ONE INVESTMENT
BROAD BOND EXPOSURE
Own a diversified multisector bond fund
Mixes different bonds and strategies
Professionally managed
Diversified exposure
---
WEB EXTRA
MENTAL REFRESH
Wyatt Lee oversees nearly $400 billion worth of the gold-rated target-date strategies for T. Rowe Price. It's a demanding multifaceted job. He shares how he keeps his mind fresh.