What do you do when your flagship fund goes from the top of its class to close to the bottom in a matter of weeks? From market trouncing to market lagging? That is the challenge facing this week's guest.
Alex Umansky, Portfolio Manager of the Baron Global Advantage Fund which he launched at the firm of legendary growth manager Ron Baron in 2012. Umansky oversees about $2.4 billion dollars in assets at Baron Capital including $1.7 billion at his flagship Baron Global Advantage Fund.
However, in mid-November of 2021, the bottom fell out for the majority of its holdings.  Global Advantage went from a 20% plus gain to a less than one percent gain by year-end, while its benchmark and competition fared much better. So far this year the fund is down 33% and lagging badly.  
In a wide-ranging discussion, Umansky discusses what's changed and what in his mind hasn't, which is why he is doubling down on some of his hardest-hit holdings and is convinced they will be long-term winners.
WEALTHTRACK Episode #1843 broadcast on April 22, 2022
Listen to the audio-only version here:
---
LEARN MORE…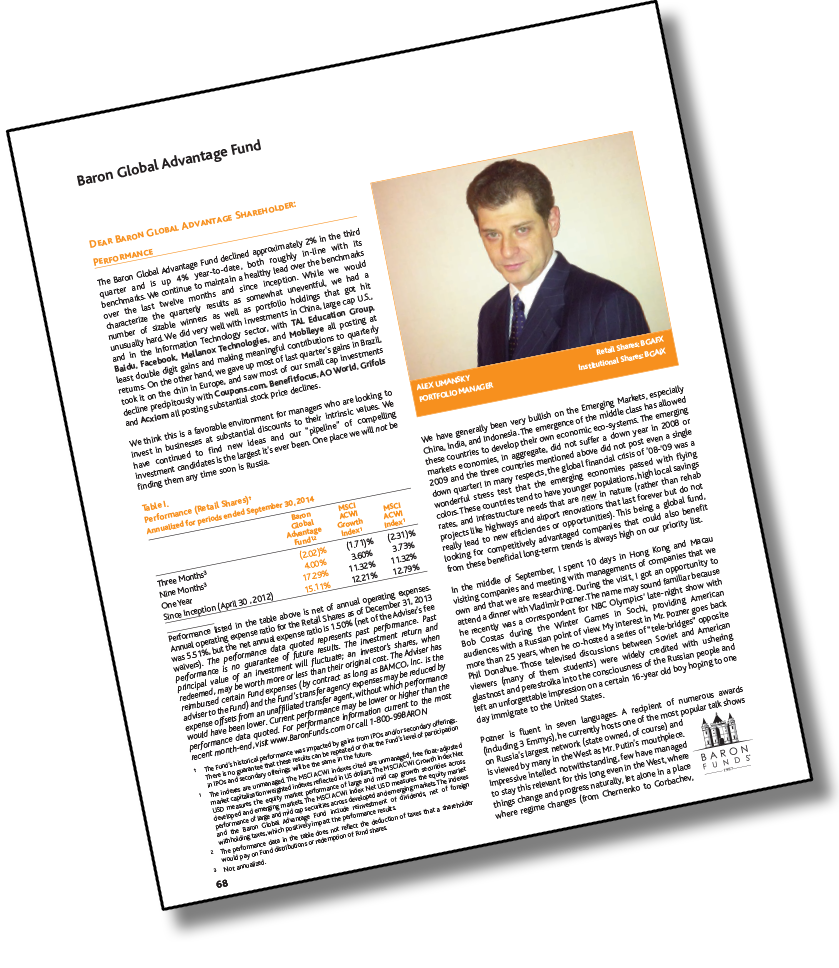 Russian talk show host, viewed by many in the West as Vladimir Putin's mouthpiece. Soon after Umansky decided that Russia was no longer investable and sold his Russian stock positions. He explained his prescient decision in a letter to Baron Global Advantage Fund shareholders later that year. He shared a copy with WEALTHTRACK. Download the letter. [.pdf]
---
Explore This Episode
We have compiled additional information and content related to this episode.
ALEX UMANSKY
---
ACTION POINT
FOLLOW YOUR OWN RULES ABOUT WHAT IS INVESTABLE OR NOT
Index funds are required to invest in companies & countries in their benchmark indexes
Individuals are not
Most portfolio managers choose companies & countries based on investment opportunities
Individuals can apply other criteria: political risk and moral values
In totalitarian countries like Russia and China rules & laws can be changed arbitrarily
Apply moral values to investments in specific countries:

Russia's brutal & unprovoked war against UkraineSpeculative companies
China's President Xi Jinping's crackdown on Hong Kong, Chinese dissidents, persecution of ethnic minorities
---
STOCKS
Mentioned in this episode:
Shopify Inc. (SHOP)
MercadoLibre, Inc. (MELI)
CrowdStrike Holdings, Inc. (CRWD)
Datadog, Inc. (DDOG)
Adyen N.V. (ADYEN.AS)
ZoomInfo Technologies Inc. (ZI)
Snowflake Inc. (SNOW)
Amazon.com, Inc. (AMZN)
Alphabet Inc. Class C (GOOG)
Cloudflare, Inc. (NET)
---
ONE INVESTMENT
DRIVERLESS CAR FUTURE
Buy Rivian Automotive Inc. (RIVN)
Price: $36.23 on 4/20/22
52-week range: $179.47 – $33.46 
---
ARCHIVES
Alex Umanskyfrom the WEALTHTRACK Archives:
---
WEB EXTRA
UKRAINE REFLECTIONS
Star growth fund manager Alex Umansky was raised in Russia, but born in Ukraine and spent summers there with his grandparents. He reflects on the tragedy unfolding there and keeping his personal and professional life on track.