Two experts on socially responsible investing, Glenmede's Laura LaRosa and U.S. SIF's Lisa Woll explain why it's booming.

WEALTHTRACK Episode #1532; Originally Broadcast on January 25, 2019
[learn_more caption="LEARN MORE ABOUT REFERENCES IN THIS EPISODE:"]
$12 Trillion or 1 in 4 four of the total $46 Trillion of investments under professional management in the U.S. is now invested in a category known as socially responsible, sustainable or impact investing. Is impact investing at a tipping point? That is the focus of a recent survey of affluent investors by Fidelity Charitable, the nation's oldest donor-advised fund.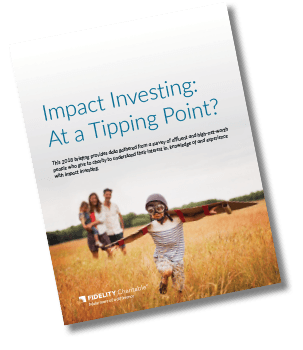 Download the Survey [pdf]
---
U.S. SIF, the Forum for Sustainable and Responsible Investment and its foundation are leading voices in research, education, and policy initiatives for socially responsible investing across all asset classes. Its 300 members represent $3 Trillion in assets in sustainable investments. Its biennial trends report tracks responsible investing in the U.S.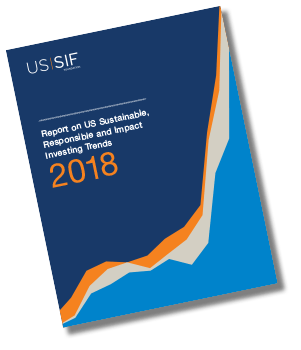 Download the Trends Report [pdf]
---
Finding a financial advisor knowledgeable about socially responsible investing has not been easy. That is being rectified by a certification course being taught at the College For Financial Planning which provides a Chartered SRI Counselor designation in partnership with U.S. SIF
---
[/learn_more]
Listen to the audio only version here:

Explore This Episode
We have compiled additional information and content related to this episode.
[tabcontent]
[tab]
[one-half]
LAURA LAROSA
Executive Director of Client Development,
[/one-half]
[one-half last]
LISA WOLL
[/one-half]
[/tab]
[tab]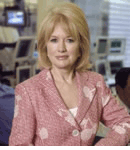 Investing to make money while making a difference has become a big business. U.S. assets in categories known as sustainable, socially responsible or impact investments grew 38% over the last 2 years, by more than $3 trillion to $12 trillion. That means 26% of U.S. assets under professional management, that's 1 in 4 dollars of the $46.6 trillion total are invested in what are called sustainable investment strategies.
According to the biennial report from The Forum for Sustainable and Responsible Investment, known as U.S. SIF, money managers for institutional investors control about $8.6 trillion dollars of the socially responsible investments while about $3 trillion is controlled by individual investors or their money managers. Since U.S. SIF began tracking the data in 1995 sustainable and responsible investment assets have grown at a compound annual growth rate of 13.6%. What started out as a niche for faith-based investing in the 50s and 60s has gone mainstream.
As socially responsible investing has evolved so has its nomenclature and scope. Socially responsible went from avoiding certain so-called "sin" stocks in businesses such as alcohol, tobacco, and weapons, to taking into consideration a company's environmental, social and governance practices, known as ESG. That has now broadened to what's known as sustainable or impact investing, a term introduced in 2007 which considers the impact a company or industry has on a range of issues and stakeholders far beyond the shareholders. Companies are now evaluated on how they manage their employees, diversity in management and on boards, and practices with customers, suppliers, communities, natural resources and climate impact.
What's driving the boom in socially responsible investing? Is it truly sustainable? This week's WEALTHTRACK guests are deeply involved in values-based investing. Lisa Woll has been the CEO of U.S. SIF, The Forum for Sustainable and Responsible Investment and the U.S. SIF Foundation since 2006. U.S. SIF and its foundation are leading voices in research, education, and policy initiatives for sustainable, responsible and impact investing across all asset classes. Its 300 members represent $3 trillion in assets under management, or advisement in sustainable investments.
Laura LaRosa is Executive Director of Client Development at Glenmede where she oversees business development and relationships with clients. She is also a member of the Management Committee and Investment Policy Committee. LaRosa has been deeply involved in Glenmede's impact investing strategies which include U.S. Equity strategies for both responsible ESG and companies with women in leadership. Established in 1956 by the Pew family to manage their trust, Glenmede is now the world's third-largest independent multi-family office with more than $40 billion in assets under management.
In this week's exclusive EXTRA feature, Laura LaRosa and Lisa Woll discuss their personal paths to embracing socially responsible investing.
If you miss the show on television this week you can always find it on our website . As always, we welcome your feedback.  Click on the Contact Us on our website, or connect with us on Facebook or Twitter.
If you would prefer to take WEALTHTRACK with you on your commute or travels, you can now find theWEALTHTRACK podcast on TuneIn, Stitcher, andSoundCloud, as well as iTunes.  Find out more on the WEALTHTRACK Podcast page.
Thank you for watching.  Have a lovely weekend and make the week ahead a profitable and a productive one.
Best regards,
Consuelo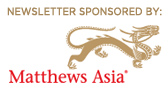 [/tab]
[tab]

THINK ABOUT YOUR VALUES AND HOW YOU CAN APPLY THEM IN SOME OF YOUR PORTFOLIO
Many Socially Responsible Choices:
-Industries to invest in or not to invest in
-Companies involved in activities you believe in
-Companies with best management practices
-Companies having an impact on underserved communities or countries
[/tab]
[tab]
Bookshelf titles available soon.
No Bookshelf titles this week.
[/tab]
[tab]

WOLL: COMMUNITY INVESTING
Bank in Community Development Credit Unions and Community Development Banks
Low-Risk Deposits
They Invest in Underserved Communities
LAROSA: IMPACT INVESTING
Add Socially Responsible Investments to Portfolio
Diversifies Portfolio
Good Investment Returns
Many Choices
[/tab]
[tab]
No stock mentions in this episode.[/tab]
[tab]
This transcript is available here. More information regarding WEALTHTRACK transcripts can be found here
[/tab]
[tab]This is the first appearance by these guests.
[/tab]
[tab]
SUSTAINABLE CAREER PATHS
Socially Responsible Investing is booming now. Such was not always the case. Lisa Woll and Laura LaRosa were early adaptors.

[/tab]
[/tabcontent] [/tabs]