A rare interview with two veteran investors who say turbulent and volatile markets are here to stay and require some unusual approaches.
Fort Washington Investment Advisor's Nick Sargen and former mutual fund star, now private investor Bill Wilby share their strategies.

WEALTHTRACK Episode #1304; Originally Broadcast on July 15, 2016
Listen to the audio only version here:
Explore This Episode
We have compiled additional information and content related to this episode.
[tabcontent]
[tab]
NICHOLAS SARGEN
Chief Economist, Investment Strategist ,
Fort Washington Investment Advisors
WILLIAM WILBY
Private Investor,
Retired Portfolio Manager, Oppenheimer Global Fund
[/tab]
[tab]For inspiration and levity I occasionally turn to Lewis Carroll's classic,
Alice's Adventures in Wonderland.  As I survey the still unfolding saga of Brexit, spreading negative interest rates around the world and the unsettling political scene in Europe and the U.S. two quotes seem particularly apt.  As the Cheshire Cat told Alice about Wonderland:   "We're all mad here." And as Alice opined:  "it would be so nice if something made sense for a change."
This week's guests are trying to make sense of highly unusual and in some cases unprecedented developments. One of those is Brexit.  After decades of opting into the European Union, albeit on some of its own terms such as keeping the pound sterling as its currency, the United Kingdom opted out. A pressing question is will Britain be the lone exception, or the first of many to do so?
A recent Pew Research poll found the EU was unpopular among substantial numbers of citizens in many countries.  71% of Greeks view the EU unfavorably, 61% of the French do, 49% of Spaniards and 48% of Germans agree.
Since the financial crisis there has been talk of Grexit, Greece's possible exit from the Eurozone.  The latest candidate is Italy with "Quitaly" envisioned as its struggling banking industry reels under pressure from EU regulators.
Then there is the impact of the unprecedented easing policies of central banks in major developed countries. On this week's program, we'll show you a chart from Evercore ISI that  tells the story of the "Incredible Balance Sheet Expansion" of the big three.  Since 2009, the Federal Reserve, European Central Bank and Bank of Japan balance sheets have increased a cumulative +$8 trillion!  Among other things, this helps explain why bond yields have plunged.  The yield on the benchmark U.S. Treasury 10-year note has hit new lows in recent weeks, while yields on German and Japanese bonds are trading below zero in negative territory.
In the week after the Brexit vote, Evercore ISI counted 18 more easing moves by central banks.  How do these developments affect global economies and markets?
On this week's WEALTHTRACK, we will hear the views of two experienced global investors. Nicholas Sargen, Chief Economist and Investment Strategist at Fort Washington Investment Advisors, the asset management arm of Western & Southern Financial Group will join us for a rare television interview.  Sargen holds a PhD in Economics, and has been international economist, global money manager and Chief Investment Officer for several major financial firms as well as an official at the Federal Reserve Bank of San Francisco.
We'll also be joined by William Wilby, in a WEALTHTRACK television exclusive. One of ourGreat Investors, now a private investor actively managing his own retirement account, Wilby was the Portfolio Manager of the award winning Oppenheimer Global Fund which was ranked number one in its category for the 12 years he ran it. A graduate of West Point, Wilby has a PhD in International Monetary Economics and has held various international finance and investment positions at several top financial institutions, including the Federal Reserve Bank of Chicago.
Both Sargen and Wilby believe the Brexit effect is far from over.  I asked them why it is still so significant.
If you miss the show on Public Television this week, you can watch it at your convenience on our website. You'll also find web exclusive EXTRAinterviews with Sargen and Wilby about investing in the 21st century.
Thank you for watching.  Have a great weekend and make the week ahead a profitable and a productive one.
Best Regards,
[tab]

HOLD SOME SAFE HAVEN ASSETS-CASH, U.S. TREASURY BONDS, GOLD, OR ALL THREE
SAFE HAVEN INVESTMENTS
Gold:
An insurance policy against disaster and traditionally a behavioral opposite to stocks
Morningstar Favorite:
iShares Gold Trust ETF (IAU)
Long Term Treasuries:
Non-correlated asset
Dampens portfolio volatility
A top rated ETF is:
SPDR Barclays Long Term Treasury ETF (TLO)
[/tab]
[tab]
No Bookshelf titles this week.
[/tab]
[tab]

SARGEN: PRIVATE EQUITY OPPORTUNITIES
Private equity funds investing in Europe
Long-term bet on Europe
WILBY: GREAT BUSINESSES
Amazon.com Inc (AMZN)
Price: $744.42 on 7/13
52-week range: $447.54 – $757.34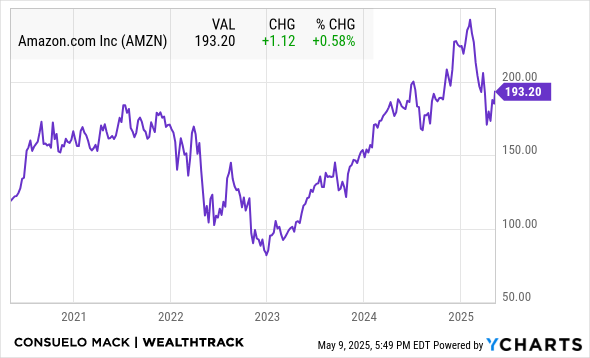 [/tab]
[tab] Amazon.com Inc (AMZN)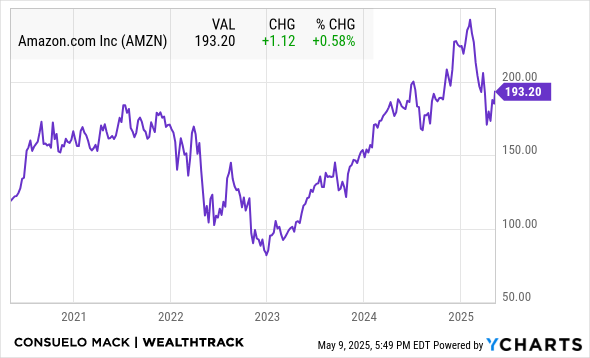 Facebook Inc (FB)

Alphabet Inc (GOOGL)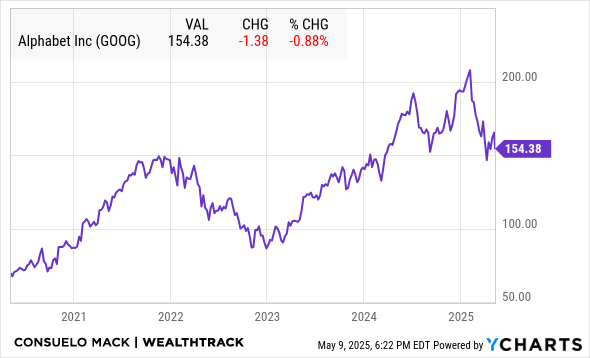 [/tab]
[tab]
WEALTHTRACK PREMIUM subscribers can access your copy here, otherwise this transcript is available here for purchase.
More information regarding WEALTHTRACK transcripts can be found here
[/tab]
[tab]Nick Sargen from the WEALTHTRACK Archives:

Bill Wilby from the WEALTHTRACK Archives:

[/tab]
[tab]
SARGEN: CAREER MISSION
After 40 years as a global  economist and strategist Nick Sargen relinquished his Chief Investment Officer role at Fort Washington Investment Advisors to become Chief Economist and Investment Strategist, as well as complete his soon to be published book, Global Shocks: An Investment Guide for Turbulent Markets. He talks about the decision to shift career gears.

WILBY: UNPLUGGED INVESTOR
Both as  a professional investor managing top performing mutual funds and as an active investor managing his own retirement account Bill Wilby was hooked on his data full Bloomberg terminal. Untilrecently that is. He explains why, after 30 plus years, he recently became unplugged.

[/tab]
[/tabcontent] [/tabs]