Small company stocks roar back! Will the rally last? An exclusive interview with a great small cap investor, Royce Special Equity Fund's Charlie Dreifus.

WEALTHTRACK Episode #1334; Originally Broadcast on February 10, 2017
Listen to the audio only version here:
Explore This Episode
We have compiled additional information and content related to this episode.
[tabcontent]
[tab]
CHARLES DREIFUS
[/tab]
[tab]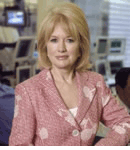 Are we in the midst of a small cap renaissance? Last year small company stocks had a stellar year and left their large cap brethren in the dust. The small cap benchmark, the Russell 2000 roared ahead more than 21% versus a 12% advance for the large cap S&P 500.
This is a reversal of recent trends. Small company stocks substantially underperformed large ones during much of 2014 and 2015 before racing ahead in 2016, a rally that took off after the presidential election. Wall Street's thinking is that the Trump platform of regulatory roll backs, tax cuts and emphasis on American companies is especially favorable to small business. This week's guest agrees with that analysis, but is concerned that the strong small cap rally has left the stocks "priced to perfection."
In a WEALTHTRACK exclusive, Charlie Dreifus, a noted value investor known for diving deep into the financial statements of the companies he invests in will discuss his strategy in an "expensive market."
Dreifus has run two mutual funds since their inception. He made his reputation with the Royce Special Equity Fund, a small cap fund for which he was named Morningstar's Domestic-Stock Fund Manager of the Year in 2008 and still carries its highest Gold Medal rating. The fund has beaten the market with far less than market risk since inception. Dreifus closed the fund to new investors in 2012 because he couldn't find compelling values for new money coming in. He reopened it just last year – we'll find out why.
He was finding value in large cap stocks however and convinced his boss, legendary small cap pioneer Chuck Royce to allow him to launch the Royce Special Equity Multi-Cap Fund to invest in them. Contrary to Dreifus' nearly 40 year track record, this fund has underperformed its market benchmark with more than market risk since its 2011 inception. We will definitely ask him for his analysis!
If you miss the show on TV this week, you can definitely catch it on our website, or  on our YouTube channel. As always, we welcome your feedback on Facebook, Twitter or via the Contact Us link on our website. We read all of your comments!
Have a great weekend, a very happy Valentine's Day and make the week ahead a profitable and a productive one!
Best Regards,
DE-RISK YOUR PORTFOLIO
8 years into a Bull market
Many indexes trading near record levels
Time to take some money out of the market
[/tab]
[tab]
No Bookshelf titles this week.
[/tab]
[tab]

"DE-RISKED" DIVERSIFIED PORTFOLIO
Vanguard Life Strategy Moderate Growth Fund (VSMGX)
Price: $24.63 (as of 2/8/17)
52-week range: $21.63-24.67 (as of 2/8/17)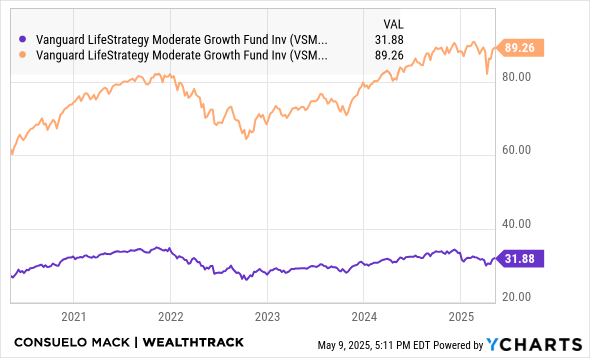 Source: Vanguard Personal Investors
[/tab]
[tab]
Vanguard Life Strategy Moderate Growth Fund (VSMGX)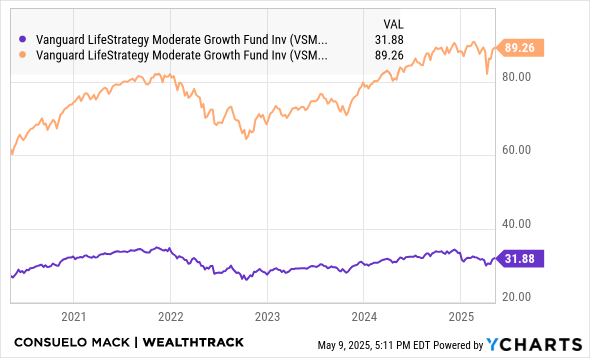 Vanguard Dividend Appreciation ETF (VIG)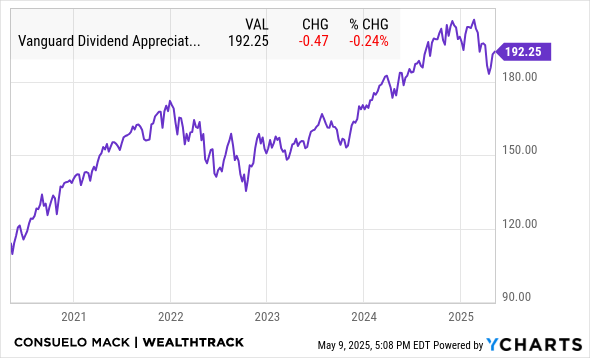 [/tab]
[tab]
WEALTHTRACK PREMIUM subscribers can access your copy here, otherwise this transcript is available here for purchase.
More information regarding WEALTHTRACK transcripts can be found here>
[/tab]
[tab]Charles Dreifus from the WEALTHTRACK Archives:

If the archive episodes do not appear here, please turn off, or whitelist this site, in your ad blocker extension.
[/tab]
[tab]
SLEEPING COMFORT
Great value investor Charlie Dreifus follows an investment rule for himself and recommends the same to others. He calls it: "Investing to your sleeping comfort."
[/tab]
[/tabcontent] [/tabs]