An estimated 90% of Americans pay too much for their Medicare benefits. In part 2 of our podcast with Making the Most of Medicare author, Dr. Katy Votava discusses simple steps to get the most out of this critical and complex benefit and save thousands of dollars in the process.

WEALTHTRACK Episode #1723 published on December 04, 2020.
Listen to the audio only version here:


---
If you missed Part 1 about Medicare and COVID, please listen here.
---
MORE INFO
Medicare.gov – The official U.S. Government site for Medicare
1-800-MEDICARE
Shiptacenter.org – The State Health Insurance Assistance Program (SHIP) site that directs consumers to free Medicare counseling and assistance
Eldercare.acl.gov – Eldercare locator, a public service of the U.S. Administration of Aging, connecting you to services for older adults and their families. 1-800-677-1116
---
E-Book Only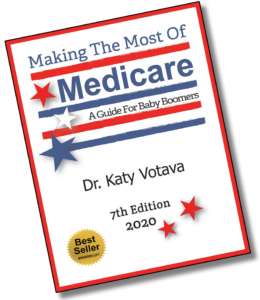 Especially for WEALTHTRACK viewers, Katy Votava is offering a 25% discount on purchases of her ebook Making the Most of Medicare: A Guide for Baby Boomers.
Available on the GoodCare.com site only, and enter the discount code WT25.
Large Print Paperback

Making the Most of Medicare: A Guide for Baby Boomers
---
In the final week of Public Television's holiday fundraising season, we are revisiting a rare and very popular recent interview with "Next Generation" Great Investor, Josh Spencer, lead portfolio manager of the legendary T. Rowe Price New Horizons Fund. You can watch it again here.