According to Medicare benefits expert, Dr. Katy Votava COVID-19 has altered several aspects of Medicare coverage and procedures. She will tell us what's different and how to take advantage of the changes. She will also help us meet the deadline for Medicare's annual enrollment period which ends on December 7th and allows medicare beneficiaries to evaluate their Medicare Advantage Plans and part D, prescription drug plans, and shift to different providers if it makes sense. 

Votava is a Medicare expert who advises individuals, small businesses, and financial planners from her healthcare consulting business, GOODCARE.com. She is also the author of Making The Most Of Medicare: A Guide For Baby Boomers, now in its 7th edition and an Amazon bestseller. It is a straightforward, easy to navigate guide to Medicare which is a very complex multi-part system that frequently does warrant annual updating by its beneficiaries. An estimated 90 percent of Americans pay too much for their Medicare coverage.
WEALTHTRACK Episode #1722 published on November 27, 2020.
Listen to the audio only version here:


---
MORE INFO
Medicare.gov – The official U.S. Government site for Medicare
1-800-MEDICARE
Shiptacenter.org – The State Health Insurance Assistance Program (SHIP) site that directs consumers to free Medicare counseling and assistance
Eldercare.acl.gov – Eldercare locator, a public service of the U.S. Administration of Aging, connecting you to services for older adults and their families. 1-800-677-1116
---
E-Book Only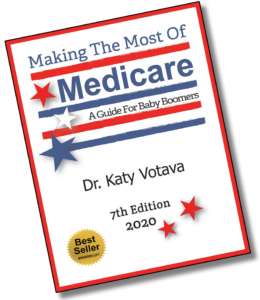 Especially for WEALTHTRACK viewers, Katy Votava is offering a 25% discount on purchases of her ebook Making the Most of Medicare: A Guide for Baby Boomers.
Available on the GoodCare.com site only, and enter the discount code WT25.
---
Large Print Paperback
Making the Most of Medicare: A Guide for Baby Boomers
---
WEB EXTRA
50 years in, healthcare consultant and best selling author Katy Votava traces the arc of her avocation.

In the first week of public television's holiday pledge drive, we are reminded of the key role the Federal Reserve has been playing in the economy's pandemic recovery and stock market rally. Accordingly, we are revisiting a recent interview we did with Fed Watching for Fun & Profit author, Ed Yardeni. Yardeni, an influential economist, and strategist reminds us that understanding Fed policy is key to predicting market behavior. Watch the episode again here.