Legendary economist and financial thought leader, Burton Malkiel shares investment lessons learned more than four decades after writing his classic book, A Random Walk Down Wall Street.

WEALTHTRACK Episode #1403; Originally Broadcast on July 07, 2017
Listen to the audio only version here:

Explore This Episode
We have compiled additional information and content related to this episode.
[tabcontent]
[tab]
Burton Malkiel
Author,
A Random Walk Down Wall Street
[/tab]
[tab]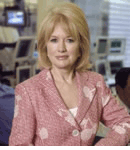 It's been more than 40 years since this week's guest, Burton Malkiel, wrote his investment classic,
A Random Walk Down Wall Street.  The book sent shock waves through the investment community with its research showing that: "A blindfolded monkey throwing darts at a newspaper's financial pages could select a portfolio that would do just as well as one carefully selected by experts."
Through numerous editions since it was first published in 1973, A Random Walk has challenged just about every investment theory on Wall Street that promised consistent market-beating performance. A feat Malkiel says is nigh impossible once transaction costs and taxes are figured in. His conclusion remains that outperformance can and does occur randomly, but you can't depend upon it!
The Street has undergone tremendous changes since 1973. To name just a few:
Deregulation, starting with stock commissions in 1975
Jack Bogle's launch of the first index fund in 1976
Online trading for individuals, created in the early 90s
Globalization of capital markets and trading
The digital revolution with its quantitative models, algorithms and high frequency trading
Tax deferred investment accounts including the IRA in 1974 and the 401(k) in 1978
The first ETF, the SPDR S&P 500 (SPY) created in 1993
While interest in investing has spread because of these self-directed retirement vehicles, the number of publicly traded stocks in the U.S. has decreased by 46% from more than 8,000 in 1996 to 4,000 by 2016, and flows out of actively managed portfolios into index funds has surged.
Professor Malkiel has more than kept up with all of these changes. He continues to write books (he has 11 books to his credit), pen editorials, do research (almost 200 papers published), serve on boards, including 25 years on Vanguard's.
He is now on the board of robo-advisor, Wealthfront, where he is Chief Investment Officer.  He is also on the Investment Committee of Rebalance IRA with another Financial Thought Leader and WEALTHTRACK regular Charles Ellis.
Rebalance IRA combines automatic rebalancing with a personal consultation with a financial advisor.
Given all of the changes, he has seen we wanted to know how his views of the markets and investing have evolved. Join us this week to find out!
If you miss the show on television you can always watch it on our website at your convenience.  If you'd like to see it earlier, it is available to our PREMIUM subscribers right now.
If you are a podcast fan, you can now find the WEALTHTRACK podcast on TuneIn, Stitcher, and SoundCloud, as well as iTunes. Find out more on the WEALTHTRACK Podcast page.
Have a great summer weekend and make the week ahead a profitable and a productive one.
Best regards,
Consuelo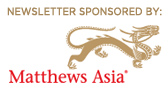 [/tab]
[tab]

READ THE LATEST EDITION OF A RANDOM WALK DOWN WALL STREET
[/tab]
[tab]

A Random Walk down Wall Street: The Time-tested Strategy for Successful Investing
[/tab]
[tab]

BROAD GLOBAL EXPOSURE
Buy a total world stock market index mutual fund or ETF
Vanguard Total World Stock ETF (VT)
Price: $67.30 on 7/6/17
52-week range: $56.93 – $68.62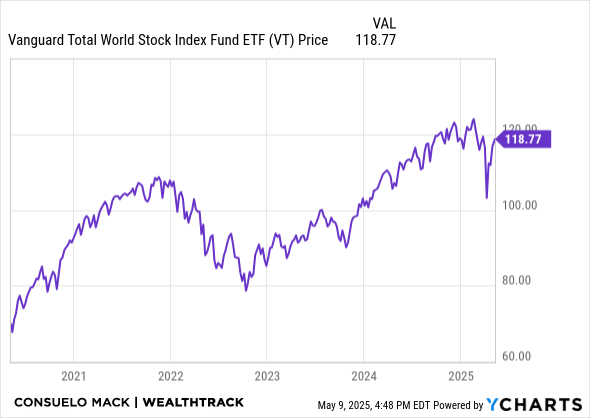 [/tab]
[tab]No stock mentions in this episode.[/tab]
[tab]WEALTHTRACK PREMIUM subscribers can access your copy here, otherwise this transcript is available here for purchase.
More information regarding WEALTHTRACK transcripts can be found here
[/tab]
[tab]Burton Malkiel from the WEALTHTRACK Archives:

If the archive episodes do not appear here, please turn off, or whitelist this site, in your ad blocker extension.
[/tab]
[tab]
INVESTMENT CLASSIC
Financial thought leader Burton Malkiel has witnessed several booms and busts and numerous changes on Wall Street since writing his classic A Random Walk Down Wall Street more than 40 years ago, yet he remains as optimistic and enthusiastic as ever about investing.
[/tab]
[/tabcontent] [/tabs]