How many times have you heard that China is on its way to surpassing the United States as the main driver of world economic growth? This week' s guest says not so fast – growth dynamics are changing and the widely forecast new world order is returning to the old world order. Top rated economist, Nancy Lazar explains why the U.S. has resumed its role as the driver of global economic growth and China is lagging.
WEALTHTRACK Episode #1115; Originally Broadcast on October 03, 2014
Explore This Episode
Listen to the audio only version here:
Nancy Lazar
We have compiled additional information and content related to this episode.
NANCY LAZAR
Founding Partner & Head of Economic Team
, Cornerstone Macro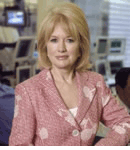 Are we witnessing a sea change in the global economy? How many times have you heard and have we reported that China is on its way to surpassing the United States as the main driver of world economic growth?
Until recently China's rise seemed to be unavoidable and inexorable. It is the world's most populous nation with an estimated 1.3 billion people, compared to about 320 million in the U.S. Its coveted middle class is bigger than our entire population. Although its economy has slowed to an estimated 7% plus growth this year, the U.S. economy, still recovering from a serious recession is expanding only at 3%, if that.
And in size, China's economy is second only to the U.S. having surpassed Japan's as number two in 2010.
But this week's guest, Nancy Lazar says not so fast. Growth dynamics are changing and this widely forecast new world order is returning to the old world order, with the U.S. rising and China waning.
Lazar is a Founding Partner of macro research firm, Cornerstone Macro which she and her partners formed last year. Lazar heads up its Economic Research team.
Lazar has been ranked one of Wall Street's top economists by Institutional Investor magazine for more than a decade, including being ranked number 2 for the past four years. She is second only to her former business partner, Ed Hyman with whom she founded independent research firm ISI group in 1991.
Lazar and her team believe that for the first time in more than 20 years the U.S. will be the driver of world economic growth.
They recently sent a chart to clients, which we will have on the program, showing that for the first time since 2006 nominal GDP in the U.S., that's including inflation, may increase more than China's nominal GDP next year, by over $170 billion.
I asked Lazar to tell us why the U.S. is resuming its role as the dominant economic world power and how long it will last.
If you can't join us for the show on public television this week, you can always watch it on our website, wealthtrack.com over the weekend. You can also connect with us on Facebook or Twitter, @ConsueloMack.
As always, we welcome your feedback on everything we are doing. Have a great weekend and make the week ahead a profitable and productive one.
Best regards,
Consuelo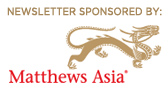 PAY ATTENTION TO THE BUSINESS CLIMATE OF WHERE COMPANIES DO BUSINESS
SOME QUALITIES JUDGED:
Ease of starting a business
Obtaining credit & construction permits
Getting electricity
Registering property
Taxes
Investor protections
Contract enforcement
U.S. RANKED NUMBER 4, 
CHINA RANKED NUMBER 96
No Bookshelf titles this week.

RISING DOLLAR
PowerShares DB US Dollar Bullish ETF (UUP)
Price: $22.88 on 10/1
52-week range: $21.14 – $22.91

PREMIUM
subscribers have access to this transcript
here
.
You can also purchase and download this transcript safely and securely with your credit card or PayPal account for $4.99. You will need the free Adobe Acrobat Reader (Mac/Win) or Preview (Mac) to view and print the transcript.
LAZAR & TRAHAN: MACRO MATTERS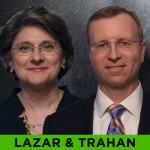 Even the most hard-core stock pickers on Wall Street watch out for big picture events that can move markets.  But which macro events matter most? Fed "tapering"? The slowdown in China? The housing recovery? Two investment research stars will be exclusively on WEALTHTRACK this week:  Nancy Lazar and François Trahan both left their previous firms to become founding partners in Cornerstone Macro, devoted solely to macro economics, policy and strategy.  What they identify as the next emerging market will surprise you!

WATCH NOW…
Nancy Lazar – Robert Shiller – Andrew Lo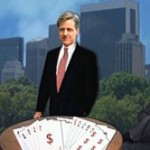 Dealing with the new market realities. Two giants of behavioral finance- Yale Professor and Irrational Exuberance author, Robert Shiller and MIT professor and hedge fund manager Andrew Lo- discuss where the money will be made in the new financial landscape. Plus, top rated economist Nancy Lazar of ISI Group fills us in on the outlook for global economies and markets.
Additional appearances of Nancy Lazar from the

WEALTHTRACK

Archives:
Technology Advantage
Setting up a brand new, world class macro research firm is a daunting task under any circumstances, but leading economist Nancy Lazar was amazed at how much easier it was establishing Cornerstone Macro than it had been in 1991 when she and former partner Ed Hyman established ISI Group. The difference? Technology!


Tagged with: episode_1115