COVID-19 has affected just about every aspect of our lives:  our jobs, our health, our family and social interactions, children's education, and leisure time. 
But what has it done to retirement prospects? Not surprisingly, it has hurt them. 
According to a survey of American workers with qualified retirement savings accounts, "…almost half (49%)  had experienced a reduction in work income through job loss, or decrease in hours and/or a pay cut".
Also, "…workers who lost their jobs or experienced a drop in income due to the COVID-19 pandemic were at least twice as likely to take money from their qualified retirement savings accounts as those who weren't impacted."   
Retirement plans for older workers are particularly stressed. Not only do they have less time to make up any shortfalls, but seniors are more at risk from COVID-19 than younger people, so returning to work is more problematic.   According to the Urban Institute the combined rate of unemployment and underemployment for workers over 65 was 26% recently, much higher than for those between 25 and 54, and the largest gap on record.    
How can we improve our retirement plans to withstand the current shock of this pandemic and future crises, which will inevitably occur?   
This week we'll be joined by one of WEALTHTRACK's long-standing and most popular guests,  retirement expert Mary Beth Franklin.  Franklin is a Certified Financial Planner, award-winning personal finance journalist, Contributing Editor at InvestmentNews, and Author of "Maximizing Social Security Retirement Benefits." 
Franklin explains what the pandemic has revealed about the state of retirement planning in the U.S., and how to best manage your own retirement in the current situation.
WEALTHTRACK Episode #1711; Originally Broadcast on September 11, 2020
Listen to the audio only version here:

Explore This Episode
We have compiled additional information and content related to this episode.
[tabcontainer] [tabtext]Guest Info[/tabtext] [tabtext]Action Point[/tabtext] [tabtext]Bookshelf[/tabtext] [tabtext]One Investment[/tabtext] [tabtext]Stock Mentions[/tabtext] [tabtext]Video Archive[/tabtext] [tabtext]Web Extra[/tabtext] [/tabcontainer]
[tabcontent]
[tab]
MARY BETH FRANKLIN
Certified Financial Planner,
Retirement Planning Expert,
[/tab]
[tab]

BE FINANCIALLY PREPARED FOR THE UNEXPECTED
COVID-19 LESSON: STUFF HAPPENS
BEST LAID PLANS CAN BE DISRUPTED
EMERGENCY FUNDS SUCH AS CASH OR TREASURY BILLS CAN TIDE YOU OVER
NEED 6 MONTHS OR MORE
[/tab]
[tab]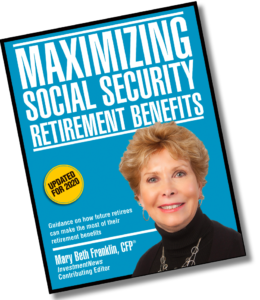 Download the 2020 version of Mary Beth Franklin's ebook
Maximizing Social Security Retirement Benefits for $29.95 at Investment News
[/tab]
[tab]

GUARANTEED INCOME FOR LIFE
Consider buying an annuity
For older individuals: Put some of your savings in an immediate annuity &
receive monthly guaranteed income for life
For middle aged individuals: Consider buying a deferred annuity
– Invest some money now
– Add to it over the years
[/tab]
[tab]
No stock mentions in this episode.[/tab]
[tab]Mary Beth Franklin from the WEALTHTRACK Archives:

If the archive episodes do not appear here, please turn off, or whitelist this site, in your ad blocker extension, or allow javascript.
[/tab]
[tab]
POST PANDEMIC PLANS
COVID-19 has completely altered the professional lifestyle of retirement and Social Security expert Mary Beth Franklin. Will she make the changes permanent?

[/tab]
[/tabcontent] [/tabs]