COVID-19 has thrown a monkey wrench into many retirement plans as millions of Americans were thrown out of work and many were forced to tap into retirement accounts to pay the bills.

The experience has made Social Security benefits even more valuable to potential and current retirees. According to Social Security expert Mary Beth Franklin, they account for half or more of total income for 50% of married couples and 70% of unmarried individuals.
They are the only source of guaranteed income for life for most Americans, and they have the added bonus of adjusting for inflation, thus protecting purchasing power.
Mary Beth Franklin joins us to discuss how to make the most of Social Security benefits. Franklin is an acknowledged expert on this topic.
She has written that deciding when and how to claim Social Security benefits is one of the most important decisions that retirees will ever make. In this week's show, I asked her how the pandemic is affecting those decisions.
WEALTHTRACK Episode #1712; Originally Broadcast on September 18, 2020
Listen to the audio only version here:


Explore This Episode
We have compiled additional information and content related to this episode.
[tabcontainer] [tabtext]Guest Info[/tabtext] [tabtext]Action Point[/tabtext] [tabtext]Bookshelf[/tabtext] [tabtext]One Investment[/tabtext] [tabtext]Stock Mentions[/tabtext] [tabtext]Video Archive[/tabtext] [tabtext]Web Extra[/tabtext] [/tabcontainer]
[tabcontent]
[tab]
MARY BETH FRANKLIN
Certified Financial Planner,
Retirement Planning Expert,
[/tab]
[tab]

UNDERSTAND YOUR SOCIAL SECURITY OPTIONS
"DECIDING WHEN AND HOW TO CLAIM SOCIAL SECURITY BENEFITS
IS ONE OF THE MOST IMPORTANT DECISIONS THAT RETIREES WILL
EVER MAKE." – Mary Beth Franklin
2700 PLUS RULES GOVERNING SS
BENEFITS
NEED RELIABLE HELP NAVIGATING THE SYSTEM
RECOMMEND FRANKLIN'S EBOOK:
MAXIMIZING SOCIAL SECURITY RETIREMENT BENEFITS

Download the 2020 version of Mary Beth Franklin's ebook
Maximizing Social Security Retirement Benefits for $29.95 at
[/tab]
[tab]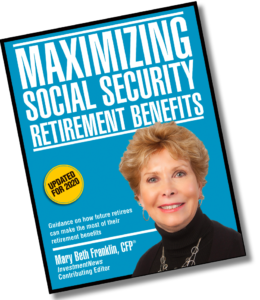 Download the 2020 version of Mary Beth Franklin's ebook
Maximizing Social Security Retirement Benefits for $29.95 at Investment News
[/tab]
[tab]

SOCIAL SECURITY STRATEGY
Delay claiming Social Security benefits for as long as possible
Get an extra 8% a year in benefits by delaying claiming from
full retirement age (66 – 67) until 70
[/tab]
[tab]
No stock mentions in this episode.[/tab]
[tab]Mary Beth Franklin from the WEALTHTRACK Archives:

If the archive episodes do not appear here, please turn off, or whitelist this site, in your ad blocker extension, or allow javascript.
[/tab]
[tab]
No WEB EXTRA this week.
[/tab]
[/tabcontent] [/tabs]