[box] On broadcast this week, we revisit State Street Global Advisors' Fredrik Axsater and Harvard's Brigitte Madrian discussing workable solutions to create retirement plans for all Americans. You can watch the episode again here. [/box]
New this week:
Bill Gates is a household name, as the founder of Microsoft, one of the world's wealthiest men and mega philanthropist with his wife Melinda. The Bill & Melinda Gates Foundation is devoted to improving the quality of life in the impoverished world and by all accounts they are making progress in several key areas, eradicating deadly diseases, improving nutrition, water quality and education.
Gates is also a prodigious reader. I subscribe to his free blog, Gates Notes which I always enjoy reading. I am sharing his favorite books of 2016 review with you because it offers a wide range of interesting topics, as he says from tennis and genomics to great leadership and they give you an idea of the scope of his intellectual curiosity.
One of my New Year's resolutions is to read more books! I am sharing Bill Gates' list of his favorite books of 2016 with you, because it offers a wide range of interesting topics. From his list to my eyes!
I am also sharing one of the most thought-provoking articles I read in 2016, Robert Arnott taking on quantitative easing and inflation statistics.
Rob Arnott, Chairman of Research Affiliates is a WealthTrack Financial Thought Leader, a financial innovator and pioneer who helped create fundamental indexation. He is also a contrarian thinker. He and his team write academic quality research which they post on the firm's website,  and which is available by just signing up. One of my favorites from 2016 takes on quantitative easing and inflation.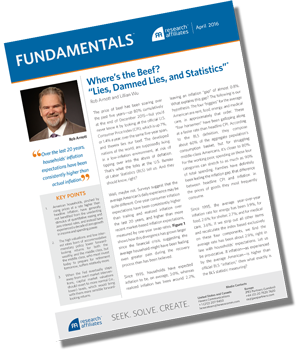 Get your copy now of "Where's the Beef? "Lies, Damned Lies, and Statistics"* here.