One extraordinary characteristic of this pandemic period has been stock market performance. A recent Wall Street Journal headline captures it perfectly: "Turbocharged stocks blast off."  In its third-quarter market's review, the Journal points out that "more stocks skyrocketed at least 400% in the first three quarters of the year than in any comparable period since 2000."

This is not a tide that is lifting all boats, anything but. The overwhelming majority of the winners are tech or biotech-related. 
Whether value's short-lived outperformance will continue is of particular interest to this week's guest. She is Sarah Ketterer, Chief Executive Officer of Causeway Capital Management. The combination of its deep value and international focus has proven to be challenging in this era of high performing tech and U.S. centric stocks, but Ketterer and her colleagues now call this a value investor's dream market as more high quality, financially strong companies sell at "shockingly" cheap valuations. 
Ketterer will discuss which ones, in particular, have caught her eye.  
WEALTHTRACK Episode #1716; Originally Broadcast on October 16, 2020
Listen to the audio only version here:


Explore This Episode
We have compiled additional information and content related to this episode.
SARAH KETTERER
CEO, Co-Founder & Fundamental Portfolio Manager,
CONSIDER ADDING SOME INTERNATIONAL VALUE STOCKS TO YOUR PORTFOLIO
DECADE OF OUTPERFORMANCE BY U.S. GROWTH STOCKS
TIME TO TAKE SOME PROFITS
REBALANCE INTO ONE OF MOST OUT OF FAVOR INVESTMENT AREAS
INTERNATIONAL VALUE QUALIFIES
No Bookshelf titles this week.


ELECTRIC VEHICLE DOMINANCE
WEALTHTRACK
Archives:
KETTERER: INTERNATIONAL VALUE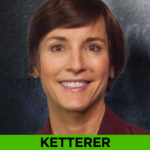 Highly-rated global investor, Sarah Ketterer, Portfolio Manager of Causeway International Value Fund explains why there is still plenty of value to be found in overseas markets.
If the archive episodes do not appear here, please turn off, or whitelist this site, in your ad blocker extension, or allow javascript.
PROFESSIONAL PANDEMIC CHALLENGE
Causeway Capital's Sarah Ketterer finds there is no substitute for in person interactions with colleagues and clients.

Tagged with: episode_1716