One of the biggest financial stories of the past year was the dramatic decline in oil prices and every asset class connected to them. The drop did more than send prices of energy stocks and bonds tumbling. It also splintered OPEC. Energy analysts Gib Cooper and Chris Eades explain the positives for investors.
WEALTHTRACK Episode #1147; Originally Broadcast on May 15, 2015
Listen to the audio only version here:

Explore This Episode
We have compiled additional information and content related to this episode.
[tabcontent]
[tab]
J.GIBSON COOPER
Senior Research Analyst & Portfolio Manager,
CHRIS EADES
[/tab]
[tab]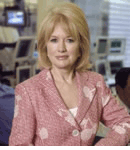 One of the biggest financial stories of the past year has been the dramatic decline in oil prices and every asset class connected to them. Prices of energy stocks plummeted and prices of energy company bonds, particularly in the high-yield, below investment grade credit category cratered.
America's benchmark crude oil, West Texas Intermediate traded over $100 a barrel last summer, before being cut by more than half early this year when it fell to a six year low.
As several savvy WEALTHTRACK guests reminded us at the time, when oil rebounds in this cycle, which it inevitably will, it will move quickly. And so it has, although it is still nowhere near last year's highs. Meanwhile, oil investments remain under pressure.
According to this week's guests, the decline in energy related securities represents an opportunity for investors, particularly in two areas.
One is in what are known as Master Limited Partnerships, specifically those that invest in energy infrastructure companies, the pipelines and storage terminals which depend on the volume of oil and gas flows, not their price. MLPs, as they are known, have been extremely popular with investors because they are legally required to pay out most of their income and their distribution rates have been very attractive in this low yield environment.
The other area is the bonds of energy companies, particularly exploration and production companies, which have issued a lot of debt in recent years to fund their production costs. Energy bonds makeup about 15% of all high-yield debt.
We'll hear from J. Gibson Cooper, Senior Analyst and Portfolio Manager at Western Asset Management, one of the country's largest fixed income managers and winner of the Morningstar Fixed Income Manager of the Year award last year. Cooper oversees the High-Yield portfolios at Western.
We'll also be joined by Chris Eades, Portfolio Manager of several Master Limited Partnership portfolios at ClearBridge Investments, including the flagship, ClearBridge Energy MLP fund, a closed- end fund that is rated 4-star by Morningstar.
If you can't join us for the show on public television this week, you can always watch it on our website over the weekend.  If you'd like to see the show before it airs, it is available to our PREMIUM subscribers right now.  Also please connect with us on Facebook or Twitter, anytime.  We welcome your feedback and suggestions.
Have a great weekend and make the week ahead a profitable and productive one.
Best Regards,
Consuelo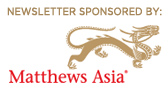 [/tab]
[tab]

ADD SOME TIPS, TREASURY INFLATION-PROTECTED SECURITIES TO YOUR PORTFOLIO
INVESTING IN TIPS
Morningstar recommends:
Schwab US TIPS ETF (SCHP)
Vanguard Short-Term Inflation-Protected Securities Index (VTIP)
Vanguard Inflation-Protected Securities Fund (VIPSX)
[/tab]
[tab]
No Bookshelf titles this week.
[/tab]
[tab]

COOPER: LONG LIFE OIL RESERVES
COOPER: LONG LIFE OIL RESERVES
COOPER: LONG LIFE OIL RESERVES
Price: $8.04 on 5/13
52-week range: $3.75 – $9.86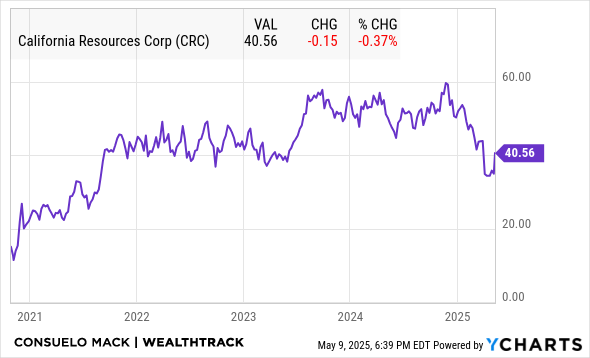 EADES: STRONG CASH FLOW
Plains All American Pipeline LP (PAA)
Price: $47.99 on 5/13
52-week range: $43.61 – $61.09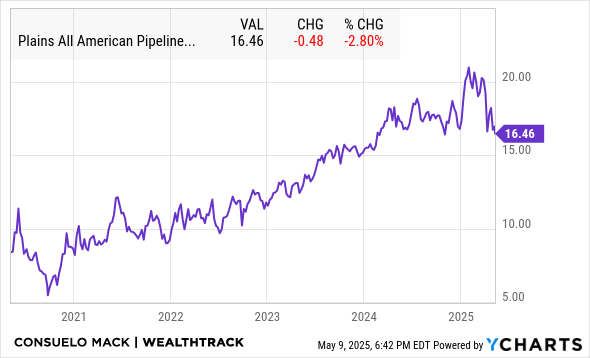 [/tab]
[tab]No stock mentions in this episode.[/tab]
[tab]
PREMIUM subscribers have access to this transcript here.
You can also purchase and download this transcript safely and securely with your credit card or PayPal account for $4.99. You will need the free Adobe Acrobat Reader (Mac/Win) or Preview (Mac) to view and print the transcript.
[/tab]
[tab]This is the first appearance of these guests on WEALTHTRACK.
[/tab]
[tab]
No WEB EXTRA this week.
[/tab]
[/tabcontent] [/tabs]