Selecting the best mutual funds to achieve long-term financial goals remains a challenging task for investors. Russel Kinnel, Director of Manager Research for Morningstar, has dedicated nearly three decades to this endeavor. He oversees Morningstar's North American Morningstar analyst ratings committees, responsible for vetting the prestigious Morningstar medalist ratings frequently cited in the financial world.
Kinnel's extensive experience analyzing various fund types and prominent fund families has led him to publish two highly impactful articles.
One is the annual "The Thrilling" fund list, which carefully selects 25 to 50 funds from a vast universe of 15,000 fund share classes based on strict criteria. Additionally, Kinnel shares his review of the top ten holdings in his personal portfolio, some of which may not be members of this year's "Thrilling 33" fund list. 
Join us to understand the rigorous selection process for "The Thrilling 33" and gain valuable insights into Kinnel's top personal holdings.
WEALTHTRACK Episode #2006 broadcast on August 04, 2023
Listen to the audio-only version here:
---
LEARN MORE…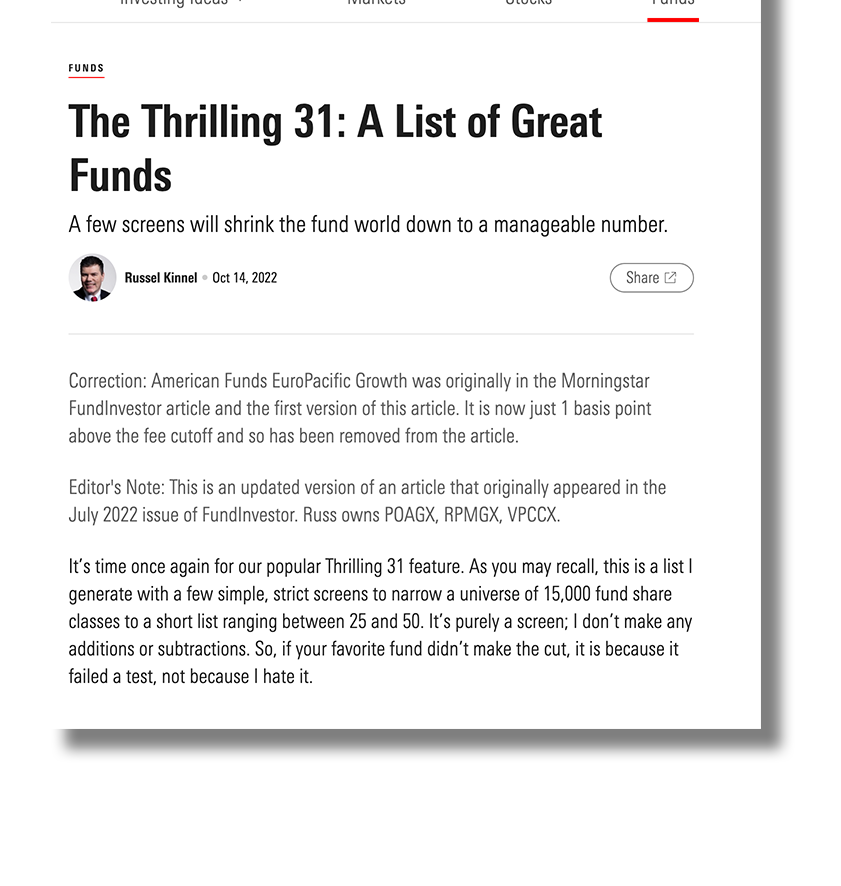 "The Thrilling" Funds Report
Reading the complete current report does require a Morningstar subscription, but you can view last year's report for free.
---
Explore This Episode
We have compiled additional information and content related to this episode.
RUSSEL KINNEL
Director Manager Research, Morningstar Research Services
---
ACTION POINT
PAY ATTENTION TO MUTUAL FUND COSTS
"Costs Matter for Both Passive and  Active Strategies" (10-year period through 2022)   
"The cheapest funds succeeded more than twice as often as the priciest ones."

36% success rate of beating the benchmark versus 16% for the most expensive funds

Cheapest funds had a superior survival rate

67% survived over the decade versus 59% for the most expensive funds  
Source: "Active Funds Continue to Fall Short of Their Passive Peers" Morningstar Bryan Armour, Feb 27, 2023
---
ONE INVESTMENT
WHOLE WORLD PORTFOLIO
Dodge & Cox Global Stock (DODWX)
---
STOCK, BOND, FUND MENTIONS
---
ARCHIVES
Russel Kinnel from the WEALTHTRACK Archives:
---
WEB EXTRA
MOST INSPIRING INVESTOR
In his job overseeing Morningstar's mutual fund research over the years, Russ Kinnel has met the giants in the industry. One person who stands out as the most inspiring is Vanguard's founder John "Jack" Bogle.