[box]
As regular WEALTHTRACK viewers know, we have asked economic legend Ed Hyman to share his new year forecast with us every year since our 2005 launch. We also invite a leading portfolio manager to join him. For the fourth year in a row First Eagle's Matthew McLennan has done the honors.
We are re-running the second interview we did with them at the end of 2019 which focuses on the global economic and investment outlook. We tackled the 2020 prospects for the U.S. economy and markets in part one. You can watch it again here.
[/box]
NEW THIS WEEK… CORONAVIRUS IMPACT UPDATE
Ed Hyman and his top-ranked economic team are tracking the evolving Coronavirus story daily as its impact widens and becomes more known. They have shared two of this week's reports to clients with us. One, their 1/27/20 Morning Economic Report examining the global economic implications and what happened to the U.S. during the 2003 SARS epidemic, the last major epidemic originating in China. The other report from Evercore ISI's long-time China expert Don Straszheim focuses on the fallout in China.

[one_half]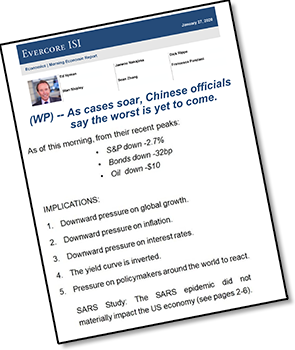 Download the report [.pdf]
[/one_half]
[one_half_last]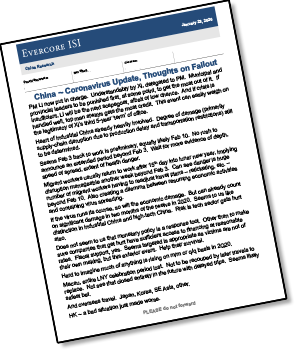 Download the notes [.pdf]
[/one_half_last]