How vulnerable are the markets? Despite rising geopolitical conflicts and uncertainty surrounding the Federal Reserve's exit plan from its unprecedented monetary expansion, U.S. stock and bond markets are trading near record highs. Two veteran global investors, private investor William Wilby, formerly of number one ranked Oppenheimer Global Fund and Fort Washington Investment Advisors' Chief Economist and Senior Investment Advisor Nicholas Sargen share their perspective and strategies.
WEALTHTRACK Episode #1105; Originally Broadcast on July 25, 2014
Listen to the audio only version here:
William Wilby & Nicholas Sargen
Explore This Episode
We have compiled additional information and content related to this episode.
BILL WILBY
Private Investor
Former Portfolio Manager, Oppenheimer Global Fund
NICHOLAS SARGEN
Chief Economist & Senior Investment Advisor, 
Fort Washington Investment Advisors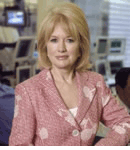 How long can the markets ignore the mounting geopolitical risks around the world?  So far they have managed to do so.  The S&P 500 hit another record today.  Facebook was one contributor. The social media giant's stock jumped 5.2% to a record $74.98 after reporting a 61% increase in 2nd quarter revenues.
Markets are famously supposed to climb a wall of worry, and there are plenty of worries to go around right now. There are several hotspots of strategic significance: Ukraine's battle with Russian separatists, Israel's battle with Hamas, Syria's civil war, the terrorist group ISIS' campaign in Iraq and Iran's ongoing efforts to build nuclear bombs.
On the economic front, there's uncertainty surrounding the Federal Reserve's exit plan from its unprecedented monetary expansion of the past five years, the U.S. economy's subpar growth during this recovery, and the struggling economies of Europe and Japan.
There are serious market concerns. Stock markets, particularly in the U.S. have been trading at record levels and bond prices are elevated. Despite all of these worries, the markets have been relatively sanguine. With few exceptions, the widely followed market volatility index, the VIX, has been subdued for the last couple of years.
Is this the calm before the proverbial storm?
This week, we'll talk with two investment veterans who have kept their heads and portfolios through many market cycles and economic booms and busts.
Great Investor Bill Wilby is an exclusive WEALTHTRACK guest. He's now a private investor, having retired at the market's peak in 2007 – talk about timing – because he was distressed and concerned about the state of the financial markets.
Until his retirement, Wilby was the former portfolio manager of the award winning Oppenheimer Global Fund which was ranked number one in its category for the 12 years he ran it. He also headed up the entire equity division of OppenheimerFunds. A graduate of West Point, Wilby also has a PhD in International Monetary Economics and has been a global investor for his entire professional life. He has held various international finance and investment positions at several top financial institutions including the Federal Reserve Bank of Chicago.
Nick Sargen is another lifelong global investor and was recently named Chief Economist and Senior Investment Advisor at Fort Washington Investment Advisors, the asset management arm of Western & Southern Financial Group. Sargen wanted to scale back from his previous position as the firm's Chief Investment Officer which he held for 11 years. Sargen also has a PhD in Economics and has been International Economist, Global Money Manager and Chief Investment Officer for several top firms, as well as working at the Federal Reserve Bank of San Francisco.
Wilby and Sargen will share their perspective on how vulnerable the markets are right now, plus give us their strategies for dealing with risk in times of global uncertainty.
Enjoy your summer weekend! Make the week ahead a profitable and a productive one.
Best regards,
Consuelo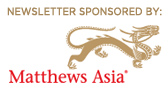 Less Work And More Play, Some Books To Read On Your Summer Vacation
Lords of Finance: The Bankers Who Broke the World by Liaquat Ahamed
Business Adventures by John Brooks
Watch the related WEALTHTRACK episode.


WILBY: INFORMATION NAVIGATION DOMINANCE
Google Inc Class A (GOOGL)
Price: $603.57 on 7/22
52-week range: $421.49 – $614.44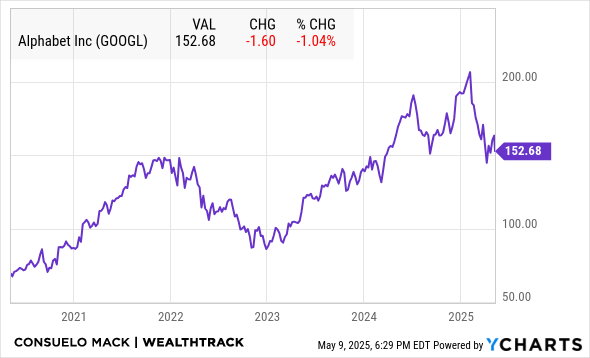 SARGEN: SURGING DIVIDENDS
Own stocks with growing dividends
ProShares S&P 500 Aristocrats (NOBL)
Price: $45.99 on 7/22
52-week range: $40.40 – $46.72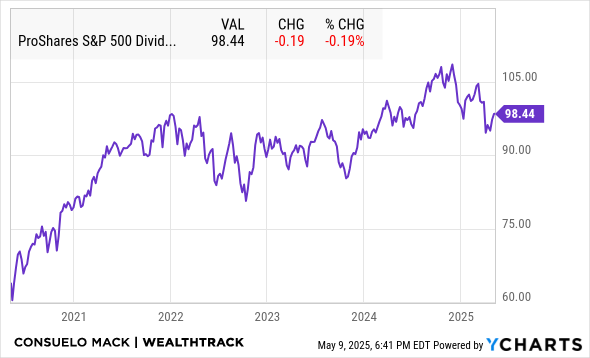 Nestlé ADR (NSRGY)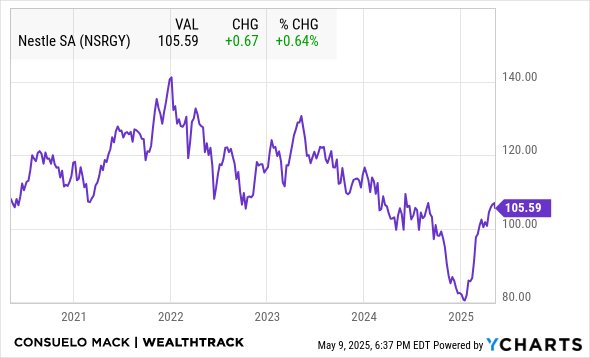 Pfizer Inc. (PFE)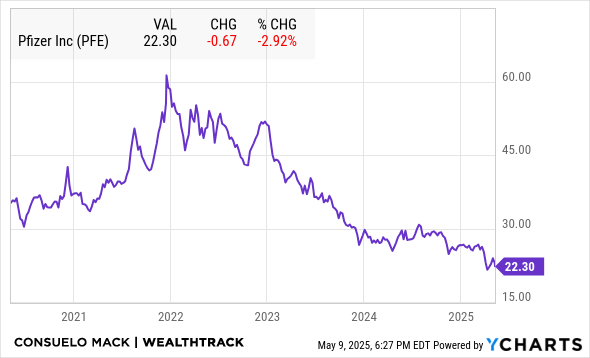 Verizon Communications (VZ)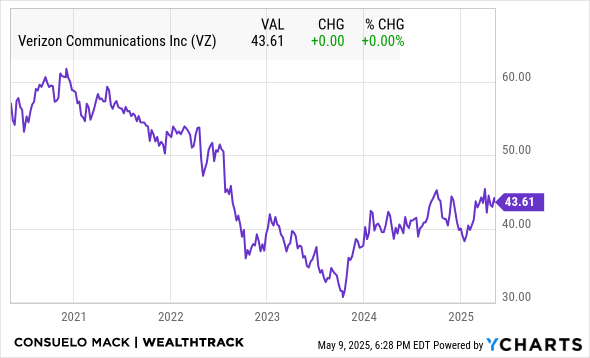 Google (GOOG)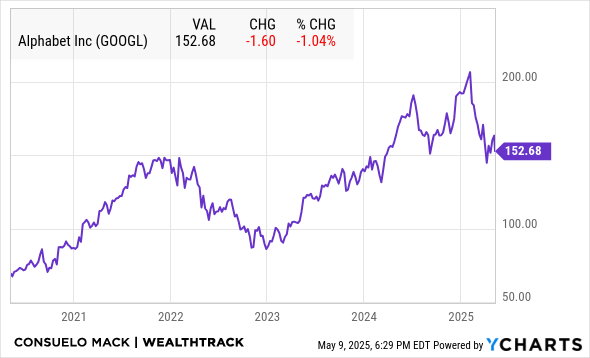 Apple Inc. (AAPL)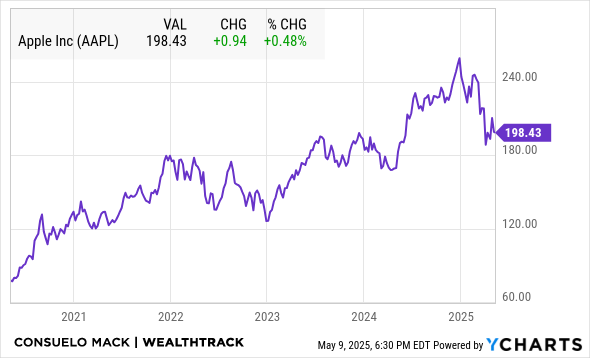 ProShares S&P 500 Aristocrats (NOBL)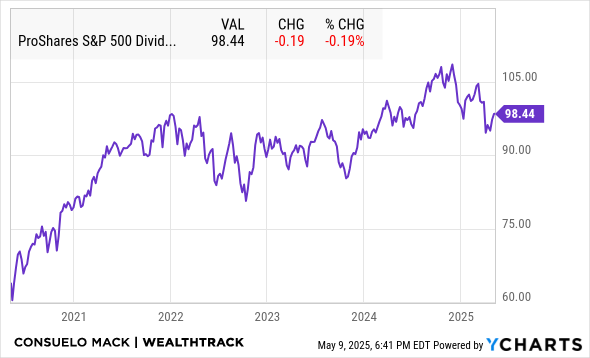 PREMIUM
subscribers have access to this transcript
here
.
You can also purchase and download this transcript safely and securely with your credit card or PayPal account for $4.99. You will need the free Adobe Acrobat Reader (Mac/Win) or Preview (Mac) to view and print the transcript.
Archive episodes available soon.
Geopolitical Risks
From his early days at West Point, to his work in Military Intelligence in Vietnam and Europe, through the 12 years running his top ranked Oppenheimer Global Fund, Great Investor Bill Wilby has always kept his eyes on geopolitical risks. In my recent interview with him and Fort Washington Investment Advisors' Nick Sargen I asked Wilby what worries him the most right now.


Tagged with: episode_1105