Can investing be simple? Can we stop worrying about what's happening on Wall Street, in Washington, with Fed policy, inflation, corporate earnings, and numerous other headline-making concerns? Can we just get on with our lives and still invest successfully?
According to this week's guest, the answer is yes, and we shouldn't even care what the market is doing.
What should we care about? How should we invest? That is the focus of this week's exclusive WEALTHTRACK interview.
Our guest is Charles Ellis, the author of the investment classic WINNING THE LOSER'S GAME, available now in its 2017 7th edition. Ellis is the author of 16 other books including the recently published 10th-anniversary edition of THE ELEMENTS OF INVESTING, co-written with his good friend, Princeton economics professor Burton Malkiel.
Ellis is a globally recognized financial thought leader, investment consultant, and advisor to governments, institutions, and endowments. He also cares deeply about helping investors succeed, as he puts it "winning the loser's game." He will help us do that this week.
WEALTHTRACK Episode #1721; Originally Broadcast on Novemeber 20, 2020
Listen to the audio only version here:


Explore This Episode
We have compiled additional information and content related to this episode.
[tabcontainer] [tabtext]Guest Info[/tabtext] [tabtext]Action Point[/tabtext] [tabtext]Bookshelf[/tabtext] [tabtext]One Investment[/tabtext] [tabtext]Stock Mentions[/tabtext] [tabtext]Video Archive[/tabtext] [tabtext]Web Extra[/tabtext] [/tabcontainer]
[tabcontent]
[tab]
CHARLES D. ELLIS
Author,
Winning The Loser's Game: Timeless Strategies For Successful Investing
[/tab]
[tab]

READ "WINNING THE LOSER'S GAME" BY CHARLES ELLIS
[/tab]
[tab]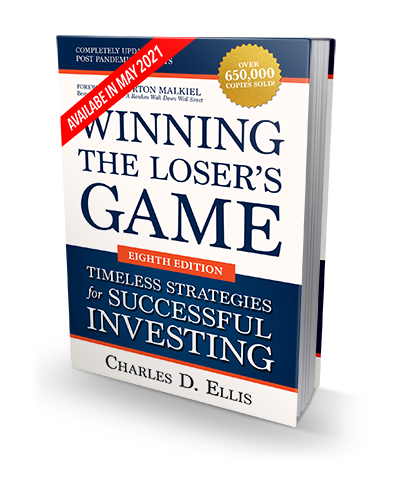 WINNING THE LOSER'S GAME: TIMELESS STRATEGIES FOR SUCCESSFUL INVESTING
8th Edition to be published in May, 2021
[/tab]
[tab]

WORLD MARKET EXPOSURE
Buy a global equity index
Long-term market participation
Choose a well-managed, low-cost provider
[/tab]
[tab]

[/tab]
[tab] Charles Ellis from the WEALTHTRACK Archives:
If the archive episodes do not appear here, please turn off, or whitelist this site, in your ad blocker extension, or allow javascript.
[/tab]
[tab]
PRODUCTIVE PANDEMIC PURSUITS
How could Charles Ellis, a legendary investment consultant, author of 17 books including the investment classic, Winning the Loser's Game, teacher and global advisor be any more productive? Listen to his pandemic pursuits!

[/tab]
[/tabcontent] [/tabs]