[box] WEALTHTRACK is pre-empted on many public television stations this week because of summer fund raising drives,  if it is pre-empted in your town, you can see it here. However,  we are still keeping our eye on the rising geopolitical tensions around the world and their possible impact on financial markets. Strategas Research Partners recently sent its clients a list of investments which should benefit during times of uncertainty. [/box]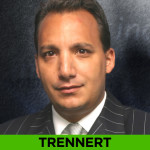 New this week, Financial Thought Leader and recent WEALTHTRACK guest, Jason Trennert believes investors will pay a premium for what they perceive as higher quality, income-producing stocks during times of rising geopolitical tensions. Trennert and his team at Strategas Research Partners have identified a number of S&P 1500 stocks with two characteristics: dividend yields higher than that on the 10-year Treasury note and earnings with compound annual growth rates (CAGR) greater than 10%. Trennert has shared the names of 10 of the companies with WEALTHTRACK. This is proprietary information usually only given to Strategas clients.
COMPANIES WITH HIGH DIVIDEND YIELDS AND EARNINGS GROWTH
Strategas Research Partners
In a world in which both growth and safety are likely to trade at a premium, we thought it would be worthwhile to screen for companies that incorporate both. The companies below might be good safe harbors during a period of tempest-tossed seas.
| | | | | |
| --- | --- | --- | --- | --- |
| STOCK SYMBOL | COMPANY | MARKET CAP > $10BN | CURRENT DIV YIELD | 3 YR EPS CAGR |
| | | | | |
| ESV | Ensco  | 11.5 | 5.60% | 26.00% |
| T | AT&T  | 178.8 | 5.30% | 23.20% |
| HCP | HCP Inc.  | 18.8 | 5.30% | 13.20% |
| HCN | Health Care REIT         | 19.5 | 5.00% | 30.40% |
| VZ | Verizon | 201.9 | 4.40% | 23.00% |
| HST | Host Hotels & Resorts | 16.4 | 3.70% | 220.10% |
| PLD | Prologis | 20.1 | 3.30% | 51.80% |
| PSA | Public Storage | 29.9 | 3.20% | 14.10% |
| LMT | Lockheed Martin | 52.6 | 3.20% | 10.60% |
| SPG | Simon Property | 51.7 | 3.10% | 10.40% |