[box style="info"]On public television, WEALTHTRACK is revisiting our most informative programs.   An interview with one of the investment greats! John C. Bogle, Vanguard founder, index fund creator, and tireless advocate for the little guy discusses how investors can succeed despite Wall Street's problems.  Watch the extended interview here or visit the episode page here.[/box]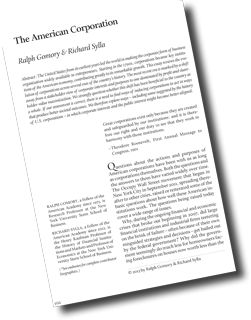 A fascinating paper by two noted professors from the New York University Stern School of Business about the evolution of American corporations since their inception in the 1790s when they became key institutions of the economy, "contributing greatly to its remarkable growth." WEALTHTRACK regular and financial historian Richard Sylla and his academic colleague Ralph Gomory strongly question whether the "shift away from a stakeholder view of corporate interests and purposes to one dominated by profit and shareholder-value maximization" has been "beneficial to the country as a whole." This thought provoking essay is worth reading and we are delighted to be able to share it with you thanks to the authors and the journal Daedalus. (First published in Daedalus, Spring 2013, Vol. 142, No. 2, Pages 102-118, courtesy of MIT Press Journals.) [wptabs mode="horizontal"] [wptabtitle] Newsletter[/wptabtitle] [wptabcontent]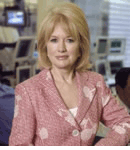 As we head into the Labor Day holiday weekend, which celebrates the social and economic achievements of the American worker we are revisiting an interview with a Financial Thought Leader who has spent his entire career effectively championing the interests of the small investor.  John "Jack" Bogle has been a tireless advocate for the little guy and an outspoken critic of Wall Street since founding Vanguard, the investment giant famous for index funds, which he created there in 1976.
His first index mutual fund, now named the Vanguard 500 Index Fund because it is modeled on the S&P 500 market index, has $137 billion in assets, as does its equivalent fund for institutional investors. If combined, they would be the world's largest stock mutual fund. Vanguard itself is now managing more than $2 trillion in assets, making it the largest mutual fund company in the world. And it's growing rapidly because of its low cost, largely passive investment model.
Vanguard remains the only mutual fund company owned by its fund investors, not private or public stockholders. Bogle set it up that way to insure it would act as a pure "fiduciary", putting the interests of its investors first. One measure of that goal is costs. According to Vanguard, the average expense ratio for all its mutual funds is 0.19%, while the industry average is 1.11%, over five times more.
Investors are taking note. The well-publicized withdrawal from more expensive, actively managed funds into index funds has accelerated over the last two decades and exploded in the last couple of years. From $26 billion in 1993, traditional index funds now have over one trillion in assets. Their much younger and incredibly popular offspring, exchange traded funds, which are index funds traded like stocks, have exploded from $464 million at their launch in 1993 to well over a trillion, surpassing their older mutual fund brethren. In total, index funds now make up 28% of total stock fund assets and counting.
Bogle, a prolific author has written ten books about his "fiduciary" oriented investment philosophy and his critique of traditional money management firms. His most recent, and he says last book is titled The Clash of the Cultures: Investment Vs. Speculation.
Along similar lines,  WEALTHTRACK.com we are featuring a fascinating paper by two noted professors from the New York University Stern School of Business. It's about the evolution of American corporations since their inception in the 1790s when they became key institutions of the economy, "contributing greatly to its remarkable growth." WEALTHTRACK regular and financial historian Richard Sylla and his academic colleague Ralph Gomory strongly question whether the "shift away from a stakeholder view of corporate interests and purposes to one dominated by profit and shareholder-value maximization" has been "beneficial to the country as a whole."
This thought provoking essay is worth reading and we are delighted to be able to share it with you thanks to the authors and the journal Daedalus.
As always, if you can't join us at the appointed hour on your local public television station, you can watch the show on our website as a podcast or streaming video. You can also find the One Investment picks of our guests and my Action Points there.
Also, if you are a PREMIUM subscriber, be sure to check out our new comment feature on the PREMIUM page. We look forward to hearing from you.
Have a great Labor Day weekend and make the week ahead a profitable and a productive one.
Best regards,
Consuelo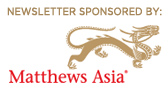 [/wptabcontent] [/wptabs]