Season 15
Many of you have taken advantage of the mid-week July 4th holiday and taken the remainder of the week off. We are among you! So this week we are revisiting a popular recent
WEALTHTRACK
episode that speaks to the importance of portfolio diversification. Our focus is international small-cap stocks and the competitive advantages of international small company stocks with David Nadel, award-winning Lead Portfolio Manager of the Royce International Premier Fund.
Watch it again here
.
NEW THIS WEEK…
U.S. small-cap stocks outperformed their larger brethren in the first half of 2018 after lagging in 2017. The Royce Funds' Co-Chief Investment Officer, Francis Gannon explains what's behind the surge and why it bears watching.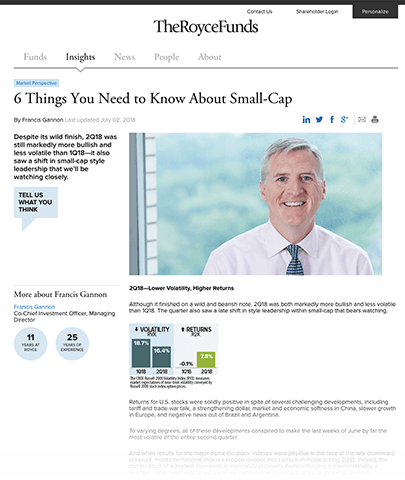 Two wise men of global finance, John Lipsky and Nick Sargen discuss policies and investments in the Trump era.
How to invest in today's expensive and risky markets?  AQR Capital's Cliff Asness, a rare combination of Great Investor and Financial Thought Leader shares his views and strategies on the fifteenth season premiere of Consuelo Mack WEALTHTRACK
Continue Reading »