Archive for December, 2012
Use Vanguard's "The Truth About Costs" tool on their website –  you can see the returns lost and the returns kept over different periods of time depending upon the expense ratio paid and the average annual return you are expecting.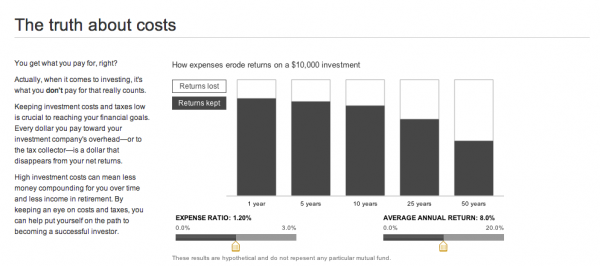 A Financial Thought Leader who has written a fascinating new book titled, The Success Equation: Untangling Skill and Luck in Business, Sports and Investing. Author Michael Mauboussin is the Chief Investment Strategist at Legg Mason Capital Management as well as an award-winning Adjunct Professor at Columbia Business School. In his book, he analyzes how and when luck and skill intersect to produce successful results. He concludes, surprisingly, that luck plays a big role in success, as he explains here in extra with the story behind landing his first job!
WEALTHTRACK Transcript #924- 12/7/12 CONSUELO MACK: This week on WEALTHTRACK, how much of a role does skill play and how much does luck contribute to investment success? Financial Thought Leader Michael Mauboussin, Chief Investment Strategist at Legg Mason and author of The Success Equation, gives us some tips on how to beat the odds. Next on Consuelo Mack WEALTHTRACK. Hello and welcome to this edition of WEALTHTRACK, I'm Consuelo Mack. How much of a role does skill play and how much does luck really contribute to investment success? Those are the fascinating questions posed by this